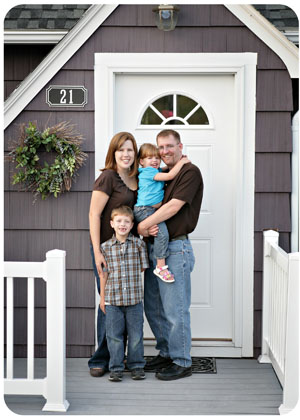 Meggan Jacks is a professional photographer located in north central Phoenix. Since 2004 she's specialized in distinctive portraits for maternity, newborn, babies, children and families. In early 2011, Meggan received her Certified Professional Photographer designation from the Professional Photographic Certification Commission.
Meggan has a causal approach to her sessions, allowing her clients to become comfortable with her and relax while their portraits are being captured. The final result is a stunning collection of images that showcases the essence of your child or family at this stage in their life.
Meggan is an Iowa native who has lived in the Valley since 1998.  She married her husband, Scott in 1999 and has two children – Kevin (age 10) and Sarah (age 7). In addition to her portrait business and family, Meggan is a regular volunteer at the local elementary school and is a board member for the Shaw Butte Little League.
5 Random Things About Meggan
1. Earned money for her first camera by baking muffins for her mom to sell at work.
2. Believes cake is simply an excuse to eat buttercream frosting
3. Is a recovering Candy Crush Addict
4. Has a Bachelor's of Science degree in Biology from Arizona State University
5. Guilty pleasure: Watching Suits, White Collar and Burn Notice