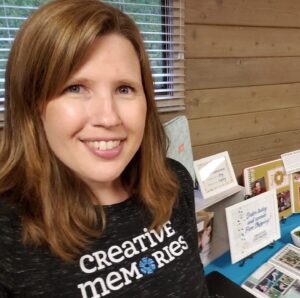 I've always had a passion for creative arts and family history. Scrapbooking is a fantastic blend of both, and I enjoy creating albums that showcase my family's story.
In 2020 I discovered the joy of sharing my love of memory keeping with people all over the world via virtual scrapbooking classes. It has been an amazing journey to connect with so many people who love preserving family memories as much as I do.
I am an Iowa native but spent over 15 years in Phoenix before moving to the Seattle area in 2015. My three children keep me busy, and my husband of 23 years keeps me laughing.
 5 Random Things About Me
I was a professional photographer from 2004-2015 in Phoenix, AZ.
I have a Bachelor of Science degree in Biology from Arizona State University.
I firmly believe cake is simply an excuse to eat buttercream frosting.
My current favorite TV Shows: Ghosts, Marvelous Mrs. Maisel, Arizona Diamondbacks games
Currently listening to: Gary Allan, Old Dominion, Rob Thomas, Walker Hayes