The Sketch
September 2021 was a Worldwide Virtual Crop with 12 sketches shared by Creative Memories over the course of 3 days. Sketch #7 was a really versatile sketch with chunky mats around the photos and strips of papers on the mats to give additional details if desired. The background is made by fanning out 9-1/4″ square piece of paper, though in my video I give some suggestions on how to conserve paper in the layout.
Here is a link to the original BLOG POST. I am attaching the sketch with measurements below.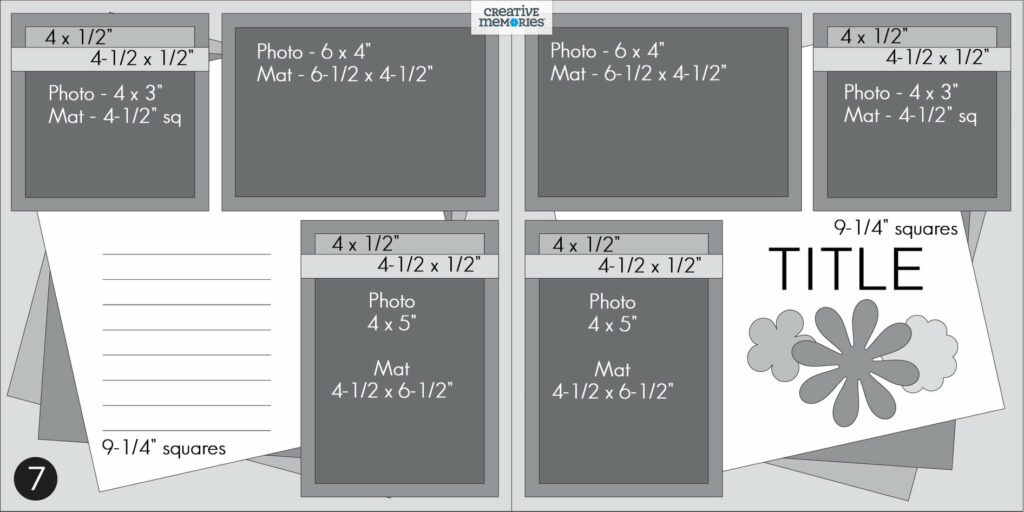 ---
My Version
I had too many photos that I wanted to include, so I made some adjustments to the layout to accommodate all these adorable expressions! I also rotated the left page as I just like the balance a bit better. I used the VERY old Everyday Power Pallette from Creative Memories (circa 2006-2007) which matched the bright cheerful colors of the exersaucer.
---
Layout Process Video
Be sure to like & subscribe to my YouTube Channel!
---
Need Creative Memories Supplies?
Please be sure to support a Creative Memories advisor when you shop from the Creative Memories website. If you are not currently working with an advisor, please consider shopping with me! 🙂