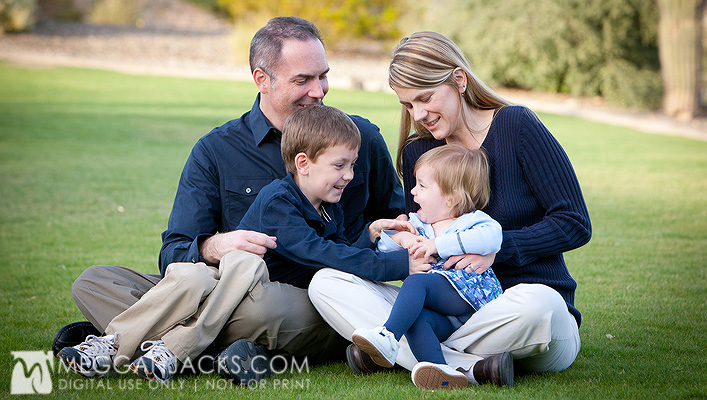 Summer feels like the never ending season in central Arizona. We hit triple digits in April, overnight lows don't dip below 90 for 90 days straight and we are still sweating out the heat of the day while our northern friends and family are buying super cute sweaters and boots and watching leaves change to beautiful shades of red and yellow.
This week we've seen a break in temperatures and while I am certain we still have a few more triple digit days left in 2013, now is the time to start thinking about capturing beautiful outdoor portraits of your children and family. These portraits will be perfect for your holiday cards and make cherished gift for the hard-to-buy-for relatives.
I have quite a few "favorite" locations in the valley to hold portrait sessions – a frequently visited location is DC Ranch Market Street in North Scottsdale, but Saguaro Ranch Park in Glendale is also delightful for a fall evening shoot. Scottsdale Civic Center Plaza typically has beautiful green grass starting in late October and their famous LOVE sculpture is always fun to include in a few pictures. If you love the rustic feel of the Arizona desert, I recommend a sunset session at the Sonoran Preserve at McDowell Mountains.  Prefer an urban setting? Let's meet downtown around the Arizona Science Center / Heritage Square!
Wherever you decide to hold your portrait session (even your own backyard!) I promise you a fun-filled session that will capture the beauty and uniqueness of your loved ones. 🙂 Please contact the studio today to schedule your on-location session. If you are needing a weekend session, those days fill up fast!