Considering that last week totally slipped away from me, I am a little late posting a family suggestion on what to wear for sessions. I am probably asked the most about how families should dress for sessions. My default suggestion, especially for studio sessions, is to wear solid black shirts and dark wash jeans – this is a "no-brainer" solution that will really allow your images to have a beautiful, classic look to them.
For those who want to venture out into the world of color for their family suggestions but don't want to be "matchy matchy" I suggest working towards coordination of the clothing – a good rule of thumb is to put mom & dad into solids and then let there be some subtle color in the kids clothes. As shown below – the daughter's sundress is establishing the color pallet for the other family members – by keeping the shirts of the other members in the same family as those contained within the sundress, the results should be pleasing.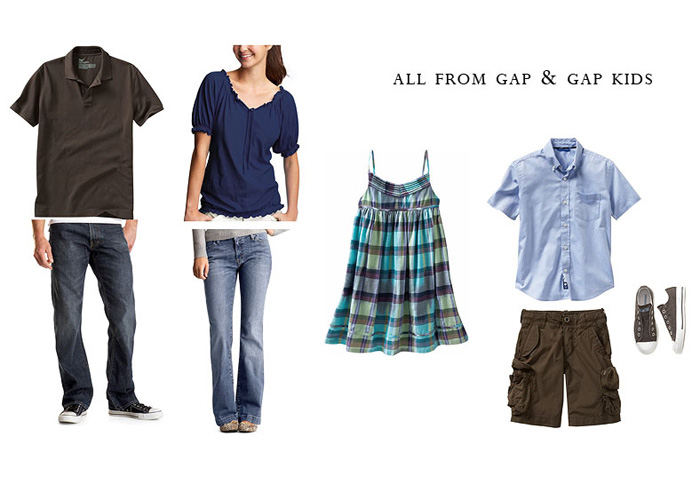 This is how I shop for my own family when I want some color in our portraits – I generally start with the girls – either for myself or my daughter.  I prefer to be in solids, so I will scout out the girls section for a outfit for Sarah that has colors that will compliment the whole family. Once I've found a few pieces that might work, I will take those to the women's section to look for myself. The boys are last and usually end up with a solid polo or sweater, depending on the season.
So, some basic rules:
Dark wash jeans are always an excellent choice. Avoid short dresses or skirts for the girls.
Find one or two pieces that have some color/interest to them (nothing too crazy though) and build from there.
Monochromatic is also a good choice – you can stay within the same color family, but mix/match the textures/fabrics of the clothing
Dark solids are perfect for anyone who wishes to hide a little bit of extra weight.
Dark shoes/socks are a must if you don't want to be barefoot
Stay away from sleeveless shirts tops you have Michelle Obama-style upper arms. 🙂
If you have any questions on how to dress for a family session, definitley let me know! Clothing choices are an essential part of ensuring that your portraits will be cherished and I am always available to help!