Whoot! It's my favorite weekend of the month – Creative Memories' Virtual Crop. The past several months I have been busy on VC weekends and have only been able to provide sketch measurements and not actually make any pages. This month I think I will get one or two of the sketches made into pages, but then I need prod my son into finishing packing and move him into his dorm on Saturday, so I may have to delay any additional pages based on the sketches until later in the month.

This post will be updated with each sketch with measurements as soon as I have time throughout the weekend. I am able to post quicker to Facebook than I can edit this blog, so if you want them sooner, I recommend following my Facebook page.
Sketch #1
This is a basic single page sketch with three photos. The background features a single layer square trimmed to about 8-1/2″. The photos feature chunky double mats and embellishments and journaling finish out the layout.
Sketch with Measurements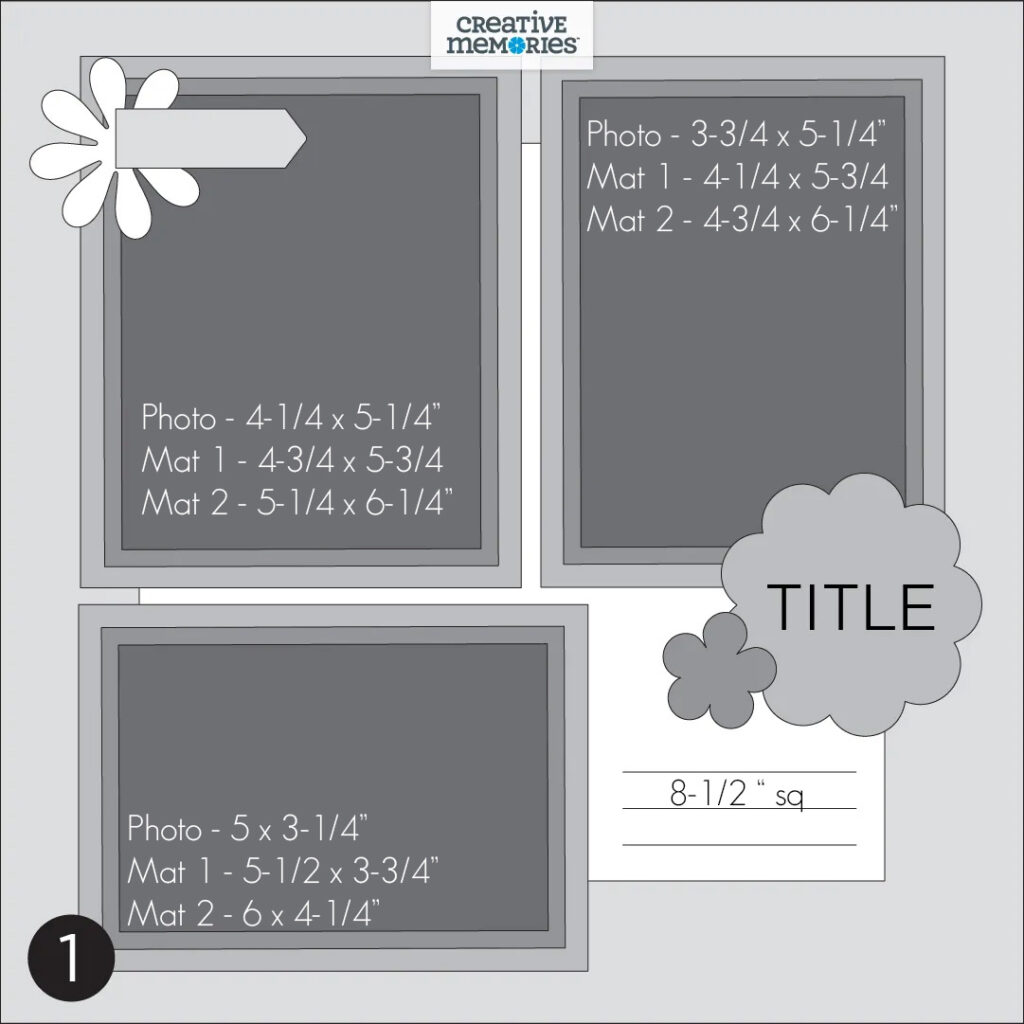 My Version Sketch #1
I appreciate such a straightforward sketch to kick off this Virtual Crop. I made some adjustments to the layout based on what I wanted to accentuate on the page. I wanted more of the background square to stand out, so I made it a bit larger and trimmed it out with an accent color. I kept the chunky double mats on two of the photos, but didn't have enough of the animal print paper (it was two mats that I cut up) so I opted to leave one of the images unmatted and used a strip of the mat above that photo to carry the animal print through the page a bit more. Every photo on here will be part of a peekaboo pocket as I have several more photos from the event (my son's Senior Ball) that I want to include plus journaling.
One key feature is that I used a 4×5 photo in the upper left portion of the page and had to create a custom Peekaboo pocket for that size of photo. This is really easy to do with the We R Memory Keepers FUSE Tool.* I made a quick video after I finished this layout to show you how to use the tool with the Creative Memories Peekaboo Pockets.
Layout Process Video
---
Sketch #2
Sketch #2 is a two page layout with a block style background – very easy to put together! Perfect for a scrappy day when you are a little short on time.
Original Blog Post
Sketch with measurements: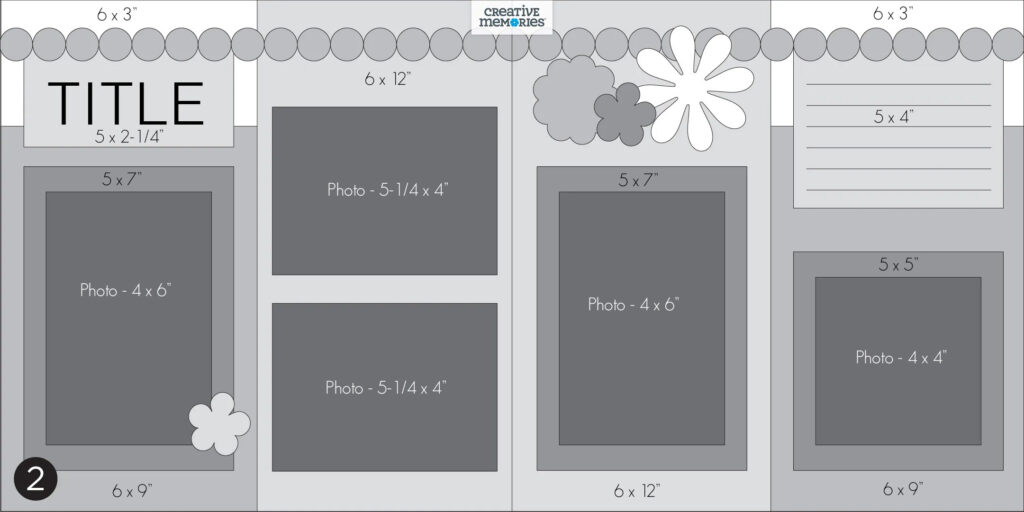 ---
Sketch #3
Sketch #3 is a sketch from a blog project that featured the Mexico Theme Pack.
Original Blog Post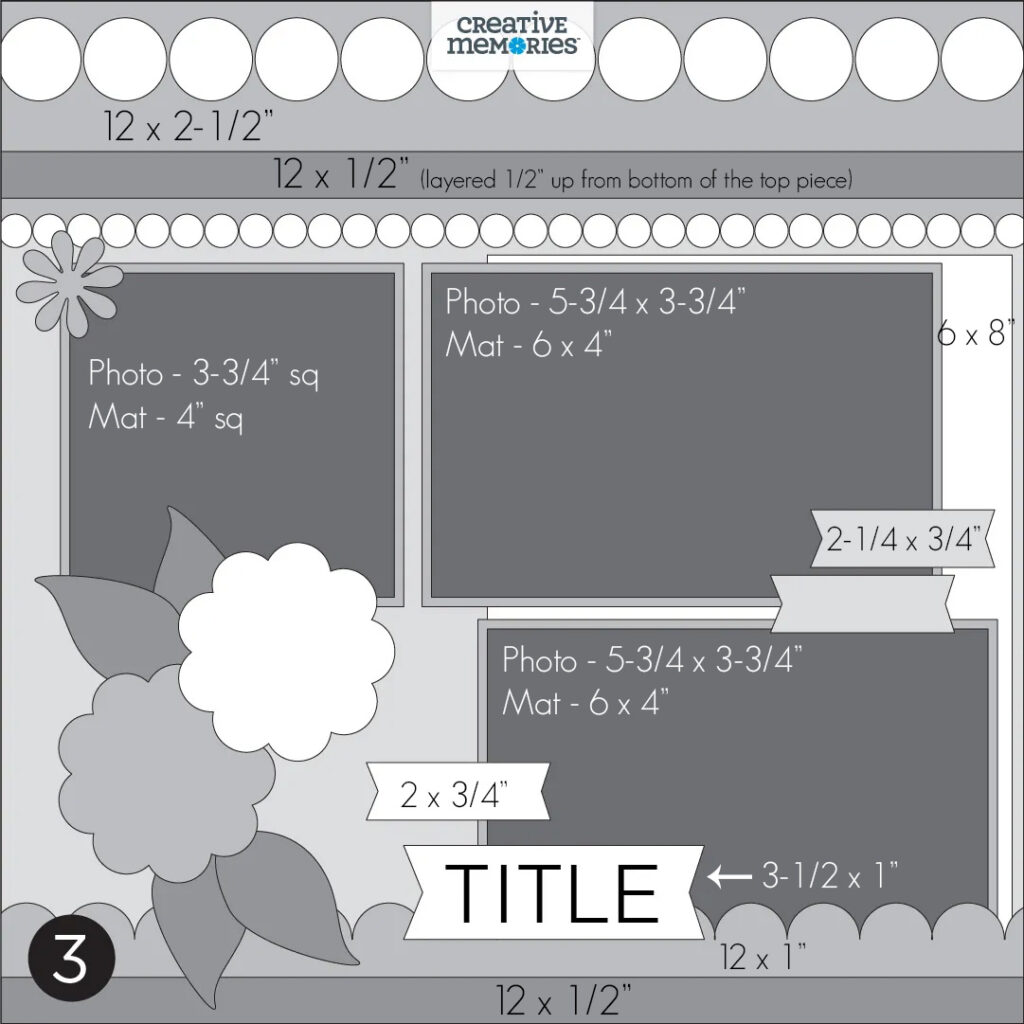 ---
Sketch #4
Sketch #4 is a single page layout that features a fun bubble inspired border. The sketch shows circles, but you could easily change that out to be a variety of shapes, embellishments or stickers.
Original Blog Post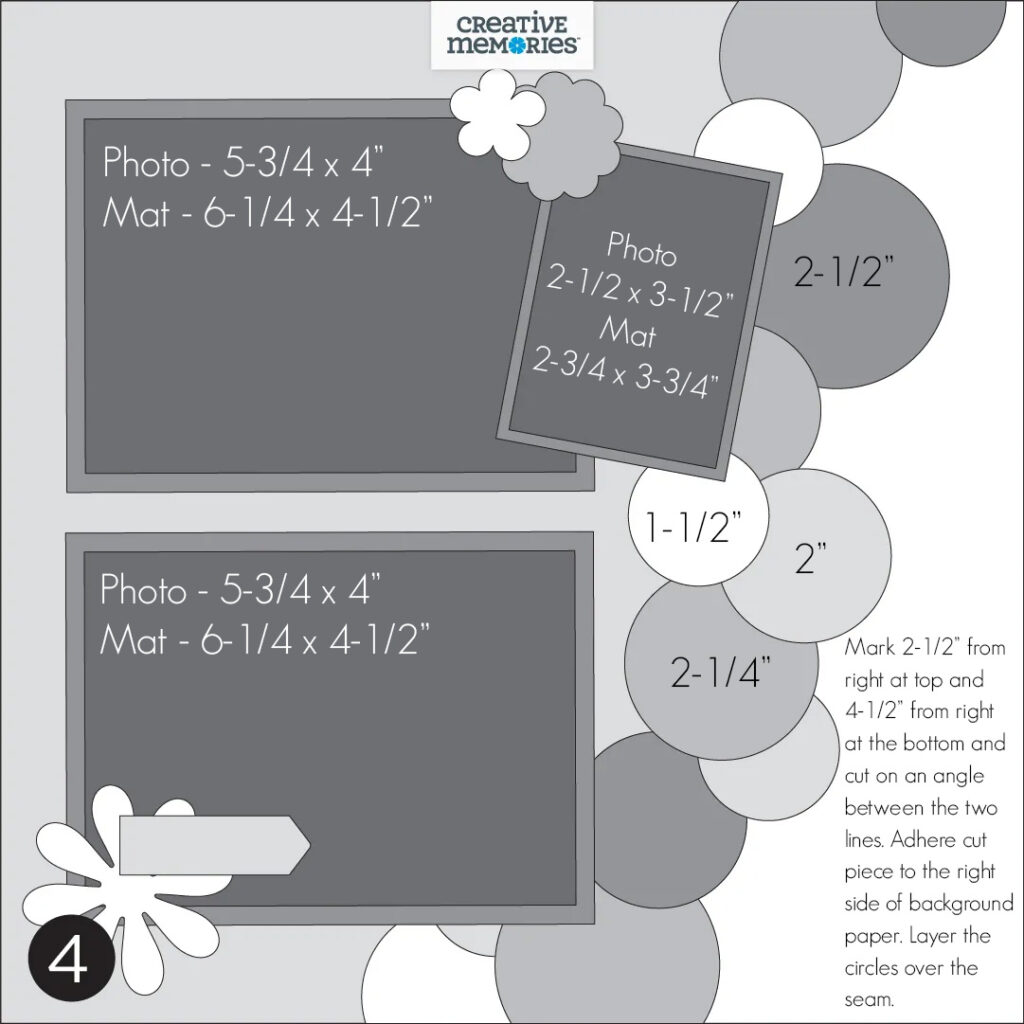 ---
Sketch #5
Sketch #5 is a two-page layout featuring a number of vertical photos – definitely a sketch I will be using! The banner details are the perfect touch to balance things out.
Original Blog Post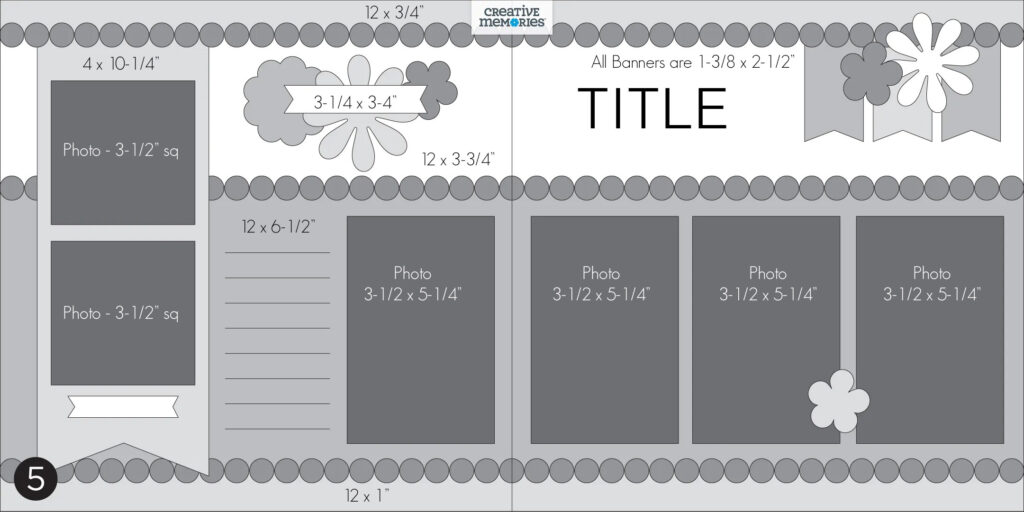 ---
Sketch #6
Sketch #6 is a delightfully simple layout that was featured as a blog project using the Devotion Collection. This layout will easily expand into a two page layout by repeating the layout, perhaps rotating it as needed to accommodate a different orientation of photos.
Original Blog Post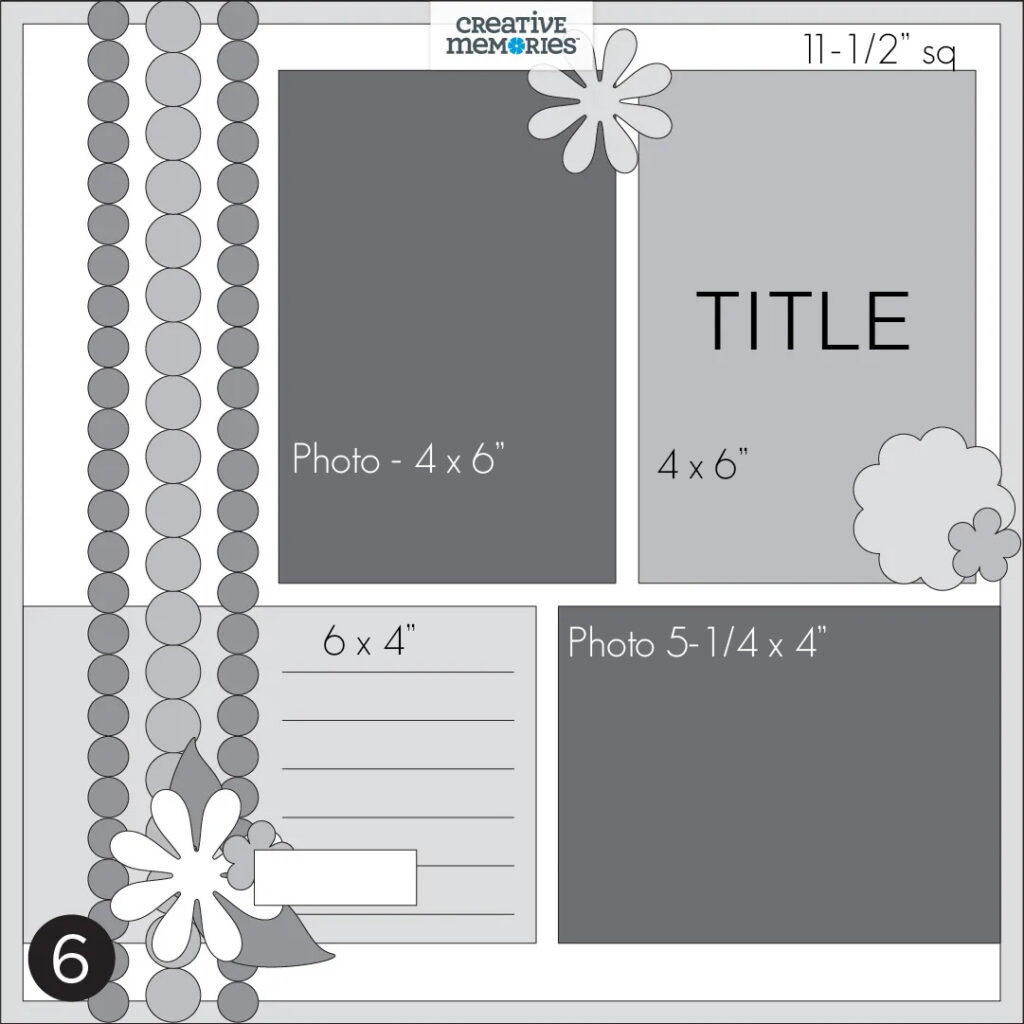 ---
September Worldwide Virtual Crop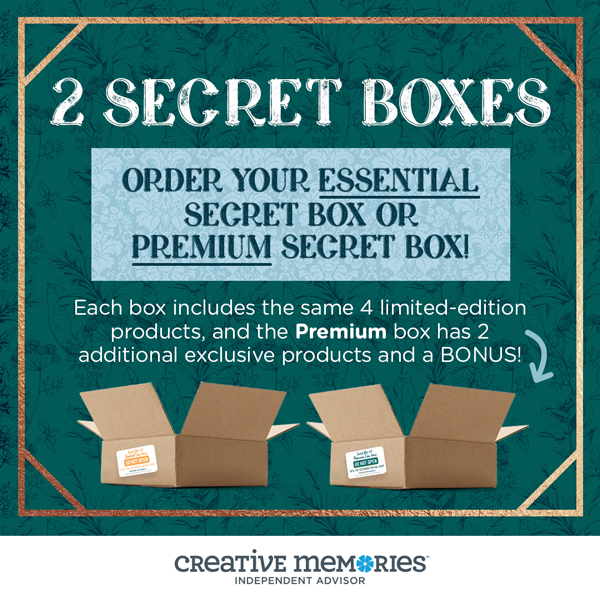 Next up is the Worldwide Virtual Crop in September – the first of 12 sketches drops on Thursday, September 8th at 3pm PT (5pm CT.) Creative Memories has a Secret Box #3 available now (mid-August) that will be a featured part of the September crop. Details on the Secret Box can be found HERE.
---
Need Creative Memories Supplies?
Please be sure to support a Creative Memories advisor when you shop from the Creative Memories website. If you are not currently working with an advisor, please consider shopping with me! 🙂