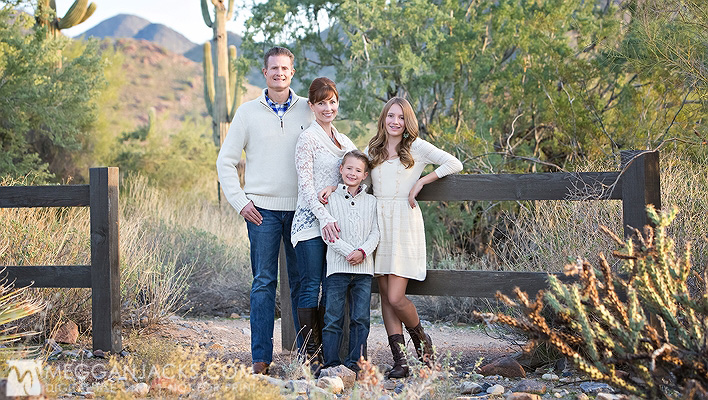 I met this gorgeous family nearly just over four years ago. We had a fantastic session at the Marriott Desert Ridge and created a beautiful canvas display for their home. Well, as we all know, kids grow up, and even the most beautiful of portraits need to be updated! So mom contacted me this fall to schedule a new portrait session. And what a session it was!
We started off at the photographic hot-bed that is DC Ranch Market Street in the height of the fall holiday portrait season. It's easy to see why Market Street is so popular with photographers – the lighting is just gorgeous and the variety of spots to shoot portraits is outstanding. I normally hold sessions here in the morning, so an afternoon session was a delightful change of pace for me. Areas that are normally showered with harsh light in the morning were basking in a photographer's dream of indirect light in the late afternoon.  My favorite spot of the evening on Market Street was the location with the soft green plants and rust-streaked concrete walls. I loved how Mom's choice of cream tops with denim created a soothing blend of colors with the background.
After 30 minutes on Market Street we ventured over to the Silverleaf community to finish off the session. The day was just perfect for the open park-like areas of the community. Since we did not have large buildings to shadow the sun, a light dusting of clouds offering the perfect, natural diffusing of the sunlight. We spent some time around a modern fountain feature and then headed over to the lake area that is on the border of the community and the McDowell Mountains. As usual, the perfect light hit just minutes before sunset and we were in the PERFECT spot to capture what will likely become my favorite "Arizona is just beautiful" family portrait of this year.