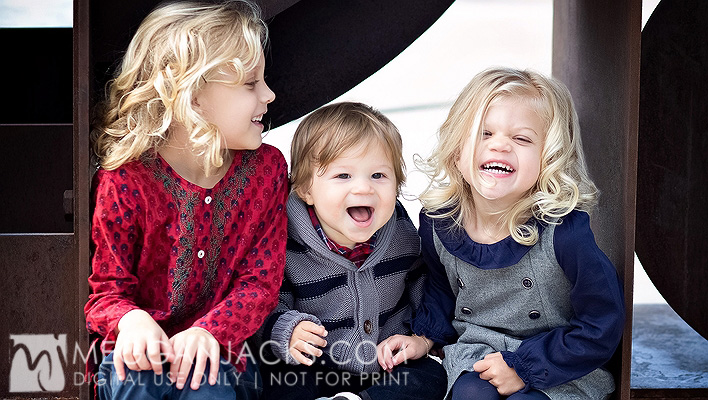 You may remember this smiling crew from a few months ago. I first met the S family when they came to my studio to capture young Tyler's 6 month portrait milestone.  Since Mr. T's birthday is in November, Mom and I discussed the taking advantage of the opportunity of a fall birthday to capture first birthday and family portraits outdoors. The target destination: Scottsdale Civic Center Plaza.
The morning of the session was perfect – just a few wispy clouds in the sky and not too many other photographers/families around. Big sisters Lucy and Sylvie were in tip top form, full of smiles and bouncing with energy. We started off the session on the east side of the complex, playing peek-a-boo in the large rustic art installation.  I am always delighted that these three siblings are happy as clams to sit next to each other and giggle and grin.
As you can see – Tyler was also ready for his time in the spotlight! Tyler enjoyed the heck out of his cake – making a huge mess of it and himself! I have so many fun images from his cake smash that mom had a really hard time deciding which images NOT to keep that she ordered them all! What a fun little album she will have of those cake-smash portraits!
The one image that brought tears to Mom's eyes was the image of her two "boys" having fun. As Dad tossed Tyler into the air he just giggled and grinned and the sounds of his squealing laughter carried through the air. It was a beautiful moment and I feel so blessed that I was able to capture it for her to remember forever.
One of the things I love about sessions at Scottsdale Civic Center Plaza is the variety of locations to shoot. Within a 5 minute walk we ventured from a modern art sculpture over to an area of the plaza that features more desert-like plants and then from there moved on to areas with lush, green grass and mature trees! Just love the results and the crazy amount of variety we captured at this session.