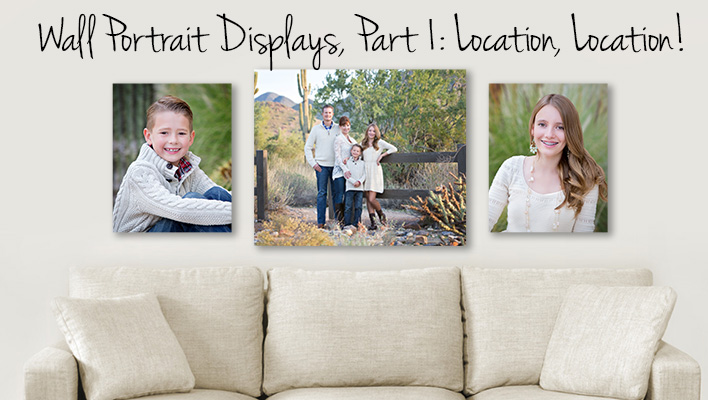 I love wall galleries – as a photographer, it is very inspiring to see my portraits displayed together to tell the story of a moment that I captured for a family. Whether you have invested in digital files or traditional prints from your session, the wall gallery is a stunning way to display your treasured portraits.
However, the creation of a wall gallery can be overwhelming for the average client.  While I am always available to help my clients design a display that they will love, I thought I would share some tips and insights on how I go about deciding where to place a display, what sizes of images to use and which portrait themselves are selected to be displayed.  This will be a three-part blog series and first up:
Location, Location, Location!
The locations you can use to showcase your portraits depends the layout of your walls and furniture.  Those with an "open concept" floor plan, where furniture may be placed floating in the center of a great room, will have different options than residents of homes that are "closed concept" where furniture typically goes against a wall.
Thankfully, all homes have walls, and walls are obviously needed to display portraits! So, disregard your furniture for a moment and look for walls where you either do not have art displayed or where you would like to change out what you do have displayed!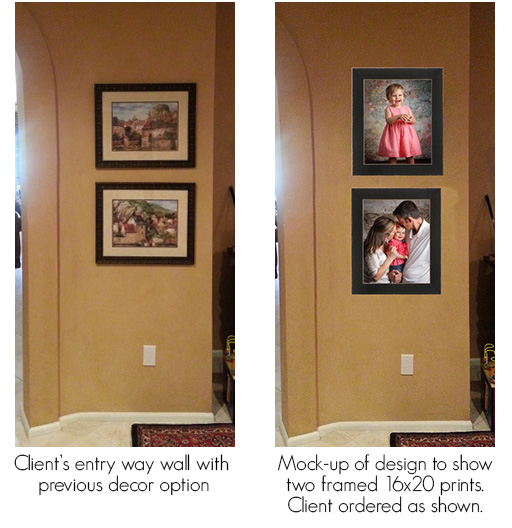 Places to look:
Over the sofa
Above a dining room sideboard
Over a headboard
Vertical spaces between doors or next to entry ways (see picture to left)
Above a fireplace
ANY open wall  – even if there is no "anchor" furniture below it.
And do not forget your children's bedroom – placing portraits in their room is a great way to remind them that they are special to you!
Above a crib (always hang without glass or acrylic!)
Flanking either side of a window
Above a dresser or bookcase.
Public and Private Spaces
Every home has public and private rooms and this designation may dictate what type of portraits you want to display. In my home, public areas get the images that resonate the pride I have in my children and family. These are the images that always bring a smile to my face and give me a chance to talk about my family with my friends (and clients who are visiting!). The private areas, such as my master bedroom, are home to the images that have deep meaning to me – my wedding portrait, maternity portraits from my pregnancies and a beautiful, soft-spoken portrait of my children together. These images are all calming to me, and while they are "fit" for public viewing, these are the images that I want to hold a little more close to my heart. My goal for 2014, to celebrate my 15 years of marriage, is to relive an "engagement" session with my husband – images that focus on our relationship. I have a wall in my bedroom that will be decorated with images from that session.
Get out the ruler or take picture
After you have made a list of  of locations you are considering using for you display and measure the overall dimension of the space, or better yet, take a picture! Simply tape a sheet of paper (letter size) to the wall and snap a picture with your sell phone.  From there, for my MJP clients, I am able to create a sample wall gallery to give you ideas on what size and shapes of images will work perfect for your home!
Be sure to check back in next week when I tell you why 8x10s are NOT wall portraits!