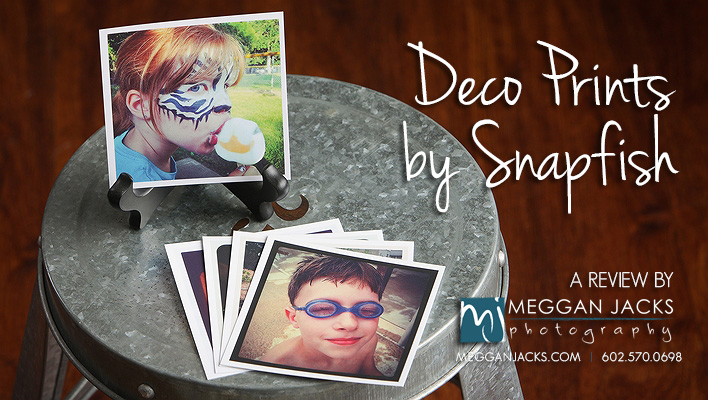 I signed up for Snapfish in September 2012 to test out their printing services – mostly to see how crappy they would print my professionally edited/calibrated portraits (more on that topic at another time).  I did send in some personal snapshots, however, and they actually came back looking okay! But, long story short – I ended up on their email list and received an email offer for "DecoPrints" – 4×4 or 4×6 photos printed on premium, heavyweight cardstock.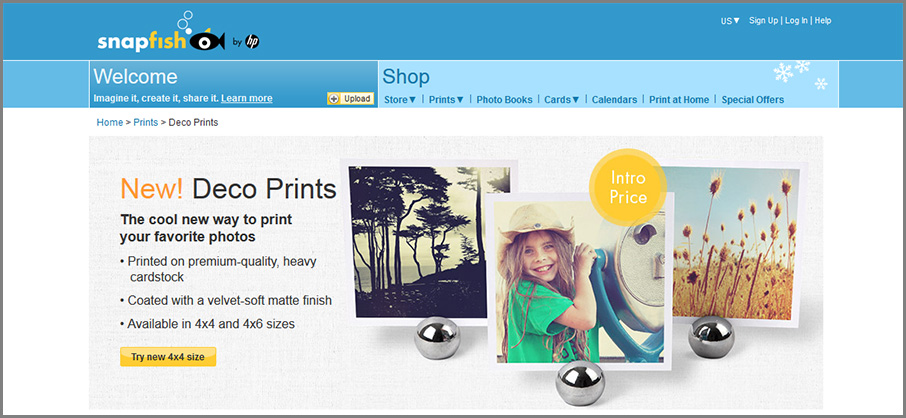 While the promise of a heavyweight card stock intrigued me, what really caught my eye was the 4×4 print format as literally moments before I opened the email I was brainstorming ideas on how to print my Instagram photos.
I am not a die-hard, in-lust Instagram user – if you clicked the previous link you will find my feed pathetically sparse. But I do love the whimsical concept of Instagram and find the filters to be intriguing.  When I started in with my self-assigned task of "The Printed Project" one area of exploration was how to print Instagram photos and still keep their innate novelty intact.
Deco Prints looked like a promising option.
First up: Ordering
Honestly – was a bit of a pain.
I had to hook up my Galaxy S2 to my computer and find the folder holding the images. Then I tried uploading some files but I received a "low quality" warning on a few of them.  FINALLY, after messing around some more I was able to upload twenty-four files that were low-quality-warning free. Yeah!
Going forward this process will likely not be such a trial as I now know what to do. It also highlighted the need for periodic download of mobile images from my phone to my hard drive to protect against my phone being stolen, lost or damaged. (Want digital file back up tips? Read this article for my online file storage tips and suggestions.)
First Impression: Love, Love LOVE

I was like a kid at Christmas waiting for the delivery of my prints – just could not wait to see if the physical product lived up to my expectations.
You know what? My expectations were BLOWN AWAY.
Velvety Soft? CHECK
Matte Finish? CHECK
Heavyweight Cardstock? CHECK
Print Color/Quality? SPOT ON!
I just could not get over the feel of the prints – so smooth and silky.  Staring at them, I was at a loss on how to properly display them to show off how fabulous they are! The only downside to the prints that I could find was that the darker prints were susceptible to fingerprint smudges.
Fingerprint smudges aside – I had to have more! So, about two months later, I decided to print some of my professional portraits this way and see if the fabulous-ness would carry over from novelty Instagram snapshots into images I create for my MJP clients.
Second Impressions… Same as the first?
FAIL.
Ugh. I immediately noticed a difference – While the print quality was okay (but not amazing) when I "petted" the prints (for a lack of better term) they felt different. I then compared them to my first set of Deco Prints. Something was definitely different about the finish. The weight of the card stock was still the same, but they just didn't FEEL the same on the surface.
What I noticed next was the presence of a sheen on the print when viewed under more direct light source (such as directly below a recessed light bulb.) This was DEFINITELY not on the previous order of prints.
I was scratching my head as to what in the world happened to these perfect prints? What did Snapfish change (and why didn't they consult me beforehand?!) Then I noticed something in the description on the DecoPrints website:
New Deco Prints are printed on premium-quality, heavy cardstock (shown here) and coated with a velvet-soft matte finish that keeps your photos fingerprint free. It makes them perfect for sharing, gifting, collecting, and decorating.
I am going to guess that what I considered a minor issue (the susceptibility to finger prints) Snapfish decided (maybe they received numerous complaints?) was something they needed to rectify.
Major bummer.
Down, but not out…
Overall, I still like DecoPrints. Even with the adjustment that reduces their luxurious velvety-soft feel, if you are looking for a fun, novel way to print the quirky things you like to share via Instagram, I think DecoPrints is an option to consider.  They are reminiscent of Polaroids without trying to hard to imitate the iconic look of a Polaroid.
Some possible display options
Placecard holders (how they are shown displayed on the SnapFish page.) I found the same holders above on the Amazon.com website: Silver Ball Placecard Holder
Album: With their white borders, DecoPrints would look outstanding placed in a scrapbook album with black, vintage looking photo corners. Check out Kolo Albums on Amazon for high quality, archival scrapbooks.
Keepsake box with display easel: I haven't found the perfect box for this yet – I am chasing some leads down for custom boxes on Etsy. One that looks promising if you need an elegant, sophisticated option (which I am not sure matches the feel of my instagram photos) is ElsieAStyle. A bit pricey, but may be worth the investment.