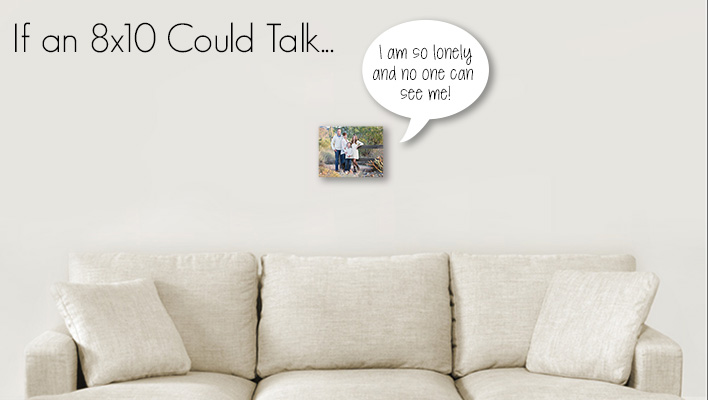 Part 2 in a three part series on how to create a beautiful wall portrait gallery in your home. Do not forget to read Part 1 with ideas on the perfect location?
The number one mistake people make when creating a wall portrait display is choosing the wrong of portraits to display – they select one that is too small. "I don't want to go too big" is one of the biggest fears I hear from my clients when discussing which size of wall portrait would look best on their wall.  They say they want an 8×10 – well, I am here to tell you why you need to "Go big, or go home."
The Curse of the 8×10
I grew up in an 8×10 household. Every portrait on the walls of my childhood home was an 8×10 – my six month baby portrait, my annual school photo and even my senior portrait – all are immortalized as 8x10s.  I will admit, I was likely close to creating an 8×10 household myself until I started down the path of my professional photography career.
Now, to be honest, there is nothing wrong with an 8×10 portrait – they have their place in our homes.  They can work great in the hallway, where the average viewer is probably less than two feet from the portrait, or in a frame on an end table nestled under a lamp and wedged between a box of Kleenex and potted plant.
Where they don't belong, however, is above a fireplace, couch or dining room sideboard. If they ARE hanging out there, they had better be hanging out with quite a few friends of their same size, or a couple of MUCH LARGER friends.
Why?
Because an 8×10 is just too darn small for the average wall portrait!
Size matters!
Print sizes starting at 16×20 are traditional wall portrait sizes, meaning that the portrait is adequately viewed from a distance of three feet or more which is a comfortable distance for the viewer to stand away from the wall.  Also, think of the impact you want your portrait to have on the guests in your home.  A 20×24 portrait makes a statement and draws the viewer in from across the room to "take in" the image.
An 8×10 portrait on the wall draws the viewer closer simply because they cannot see the image from a distance!
So what size of print is the proper size? There is no absolute definitive answer as it depends on where you plan to display them and how many portraits you plan to put in your grouping, but here are some general guidelines:
Only the Lonely…
If you are displaying just ONE portrait, you need to make it have an impact. As you can see from the pictures to the left, an 8×10 does NOT make an impact. A 16×20 is better, but it is not what I would professionally recommend. Because the sample portrait is a full body, environmental portrait where the size of the subjects are smaller in relationship to the overall size of the print, my recommendation for this portrait is a 24×30 when displayed over a 7.5 ft couch with an 8 ft ceiling. If you have a larger piece of anchor furniture and/or a higher ceiling, a larger portrait may be necessary to have the same impact.
I get by with a little help from my friends…
Just as John Lennon had the Beatles your  portraits have friends, too.  Which friends are needed for your arrangement depends on the location of your display the number of images you want to use.  When you use fewer portraits, those pieces can be larger to fill the same area.  If you have more images that you want to display, you will have to find the right mix of larger and smaller  portraits to fill the same space.  At this point, the possible display combinations become nearly endless and the design process moves into finding the right balance between display impact and image selection.
Big is Beautiful
Part Three of this series will try to outline strategies to finding that perfect balance, but the key thing to remember from this article is DO NOT fear going with a larger sizes for your wall portraits.  As you can see in the graphic below, the 8×10 is not a statement, but rather an accessory. You are NOT being ostentatious by displaying a beautiful 24×30 portrait of your family. You are celebrating what you love and the pride in your family.