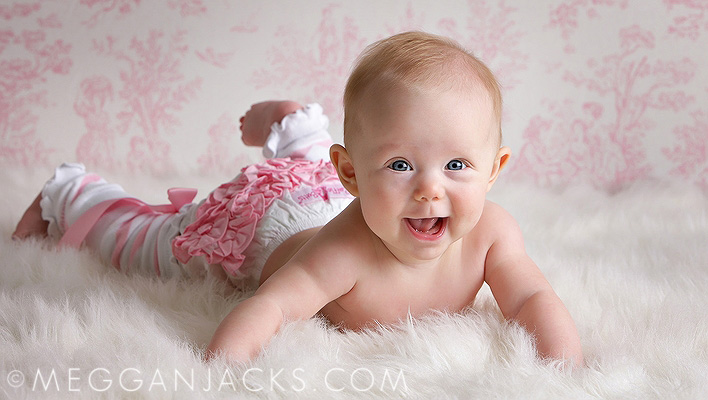 Miss Delaney came in just after New Year's for her four month portrait session as part of the babyJacks First Year Portrait milestone sessions. It is amazing how much she has changed since I saw her last as a newborn. She's master tummy-time and is working her ab muscles overtime so that she can master sitting-up next! Her mom had a great assortment of clothes and accessories for her session, including adorable pink-ribbon leggings with a ruffle-tush diaper cover and a stunning purple petti skirt dress.
We started off the session with tummy time tho showcase that cute diaper cover and ribboned leggings. The delicate pink and white toile fabric backdrop along with furry white rug set the perfect stage for Delaney to look up and flash those adorable baby blues and gummy smile to the camera!
Next up was hugs and kisses from mom. With mom wearing a white shirt and Delaney in a violet diaper cover, I set up the background with a fun set of curtains I found through Zulily.com.  The background has a nice, light monochromatic feel to it with just a hint of texture, providing interest but not overpowering the image, allowing the focus to center around Mom and her baby girl.
Last up was the oh-so-adorable purple petti skirt dress. Seriously – can this girl get any cuter? I opted for a neutral gray background for this dress as I wanted to utilize a simple, contemporary background to contrast against the frilliness of the dress. She showed off her strong legs standing up with mom and then took the party to the floor, laughing and smiling as Grandma danced an sang behind me.
But all that fun can eventually wear on a small princess like Delaney.  After about 45 minutes, the thumb was being pulled towards the mouth more and more, a sure sign that fatigue was setting in. We captured a few snuggle moments with mom (awww!) and then the little model was headed back home for a well deserved nap time.