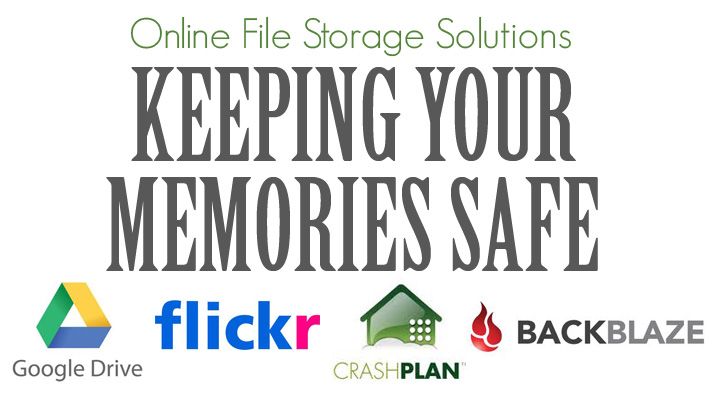 Protecting Your Memories
One major upside to digital photography is the ease of storing hundreds (or in my case, thousands!) of pictures in a compact manner. While I always encourage my clients, family and friends to print out their favorite images to put into an album that is easy to browse through and enjoy, the reality is that I know most people, including myself, rely heavily on computer hard drives to keep our images safe and organized.

So this brings me to discussing the MAJOR downside of digital photography – the instability of hard drives as long-term storage of your picture files (or any file, for that matter.) Personally, I've had three major hard drive crashes – two external drives and one main computer drive. Thankfully I have access to a computer wizard who was able to retrieve all the information from the drives for me.  In addition to having awesome friends, I also back up my image files to more than one spot prior to formatting my media cards.  My two main back up options, however, still leave my files subject to non-hardware failures such as fire or theft.
Off-site storage is a great way to prevent loss of data due to a fire or theft. Previously, the best way to do this was to store back-up copies on a disc or external hard drive at a friend or family member's home or in a bank safety deposit box.  However, there is now something referred to as "Cloud Storage" that is available through various online companies that provide an easy way to store and access your images and files.
If you do an online search for "Cloud Storage" you can find various articles and companies advertising their services. While I encourage you to read up about it and look into your options, I will cut right to the chase and outline what *I* use for my personal and professional life:
Image File Storage:  Flickr

Flickr made some changes earlier this spring to their offerings. They eliminated the "Pro" status and opened up the professional features to the everyday user. This is fabulous because now you can store up to 1 TERABYTE of photo and video files for free. Flickr has been around a while, is owned by a larger company (Yahoo!) and so I believe it to be a reliable/trustworthy service to use for image/video file storage/backup.  Personally I back up all "keepers" from my family snapshots and professionally I use Flickr to back up all final edits for the images my clients order.  I can set the privacy controls so that just my family/friends can see my personal images and only I can see my professional images. Flickr also offers some great organizing tools that will help you keep track of, and easily find, your images.  Organize your images into sets (i.e. Summer Road Trip 2013) and/or tag the images with the subjects name and/or event (i.e. Kevin Birthday.)
General File Back-up: Google Drive

I've been a fan of the web based Google products for a while. It helps that I was an early user of the android mobile phone platform and so using Gmail, Google Calendar and Contacts was easy to adopt.  When they added Google Drive for online file storage/sharing, it took me a few months to figure out how to really use it to my advantage, but I finally took the time to figure it all out when I wanted to share some recipes with my mom.  I simply created a file folder on Google Drive called Recipes, uploaded my MS Word .doc files to that folder and shared the folder with her. Mom can now download my files or upload her own files to share with me. Win-Win!  Professionally, I back up many of my non-image based files to Google Drive.  This works great for safe storage but also for ease of access when I am not at my main computer and need to access a file (such as when I am traveling.)
Automated Services: BackBlaze or CrashPlan


While Google Drive and Flickr offer free basic services, the downside to them is that you have to manually back up the files to these services. I've added these steps into my workflow and so I feel confident in my use of them. However, I know many people who prefer to use an automated service and are willing to pay for such a service. If this sounds like something you prefer, I recommend looking into BackBlaze or CrashPlan.