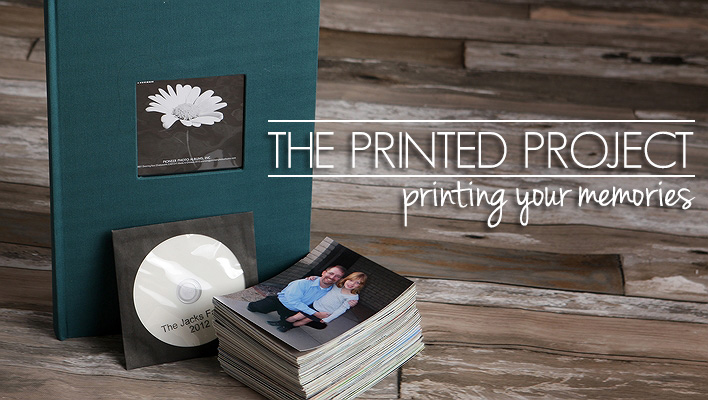 I have a confession – I have hard drive after hard drive filled with personal snapshots of holidays, vacations, birthday and other, everyday type moments that are stuck in bit-land, only accessible if I pull up the files on my computer.  This is not a way for these memories to live as they aren't in a position where my children can easily flip through pages and remember the moments.
Earlier this summer I decided that "enough was enough" and committed to figuring out a way to get these personal snapshots printed and put into albums. I have always had great aspirations to put them together in a scrapbook that would tell our family stories in a colorful and creative manner, but time just did not allow that to happen in the past decade and the next decade does not look so promising either. So I decided to "settle" for rating the images, having my favorites printed and then putting them in albums grouped by year. I made 2012 my goal – Start with one year, get the process smoothed out and then work my way backwards through the previous years.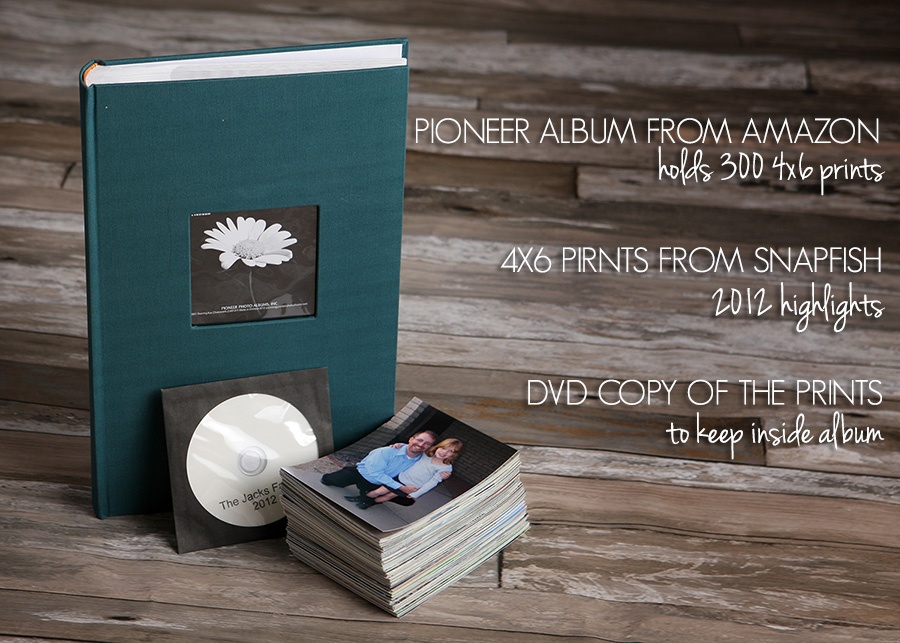 Sorting & Rating Your Photos
I currently default to sorting my images by month on my hard drives. Each month I create a new sub-folder and put those month's images in that folder. The next step in "The Printed Project" was to rate the images to identify my favorites that I wanted to print. This step is fairly easy for me as I do it daily with my business. I use a program called Adobe Bridge that is part of the PhotoShop Creative Suite. I tried to find a way to sort/rate images outside of Bridge as I know not everyone has this level of program on their computer. There is a program called Photoshop Elements that I recommend for those wanting a consumer level photo editing software and PS Elements does have an option to rate photos that would work well for this purpose.
After giving a 5-star rating to my favorite images, I filter for just those images and then put them in another sub-folder for that month called "MonthYear-Print" (So September would be "Sept2013-Print"). This puts the best of the files a folder all of their own making the back-up and ordering process easier.
Say What? Back-up?
Speaking of back-up, if you do ANYTHING that is listed in this article, this is the item YOU MUST DO! Even if you do not print a single photo, you absolutely must make the backing up of your personal photo files a priority.  Hard drives fail – trust me, they do. I've had THREE fail. If I did not have my files backed up I would have lost YEARS of my personal photos on top of 1000s of my client's images.
I wrote a great article on my suggested methods of backing up your digital files. Definitely take a look at it for information and suggestions.  I use Flickr as my back up method of choice for my personal photos. I simply upload the contents of the "MonthYear-Print" sub folder (so my monthly favorites).  I set the "Privacy" to "Family/Friends" so that my parents, who live in Iowa, can see what their grand kids have been up to and have access to print any photos they like.
For an additional method of back up, I burned all of the printed images from the year onto a DVD and put a copy of that DVD with the album.
Next Stop: Printing!
Where oh where to print – that is the question! For local printing, I recommend checking out your Costco. BUT, if you have never printed with Costco, I suggest running a small batch through to make sure they will do a good job. Not all Costco print labs are run by technicians who take great pride in making sure their printer stay calibrated.  If you live in the North Phoenix area, I recommend the Costco at the 101 and Cave Creek.
For online printers, I recommend checking out Mpix or even Snapfish or Shutterfly.  I printed pictures from a vacation in Hawaii through Snapfish and the quality was acceptable for my purposes.  The first 100 of those prints were free since I was a new customer, so it was well worth trying out.
Albums
After ordering a years worth of 4×6 portraits, I realized I needed an album hold them all.  So I went arm chair shopping at my favorite retailer – Amazon.com. I found a basic album that would suit my needs- a Pioneer brand 4×6 photo album on Amazon.com that holds 300 photos. Perfect! They offer different colors in this album, so my bookshelf will have a colorful display of albums once I am caught up with printing.
Bonus Item: Story Cards
As I was putting photo after photo into the album, I was thinking back through all the fun we had in 2012 and the stories behind each of the images (trust me, some of the stories are interesting!) Part of me was still quite devastated that I was not able to scrapbook these images in a manner that would properly tell theses stories, then I realized that I COULD tell the stories!  All I needed was a stack of note cards and pencil (I need the ability to erase!)
For the images that had stories behind them, or notes about a vacation or holiday, I simply wrote down my thoughts on the note card, slipped the card in behind one of the photos and then put a star on the page next to the picture where the card was placed.  Now the stories are preserved! 🙂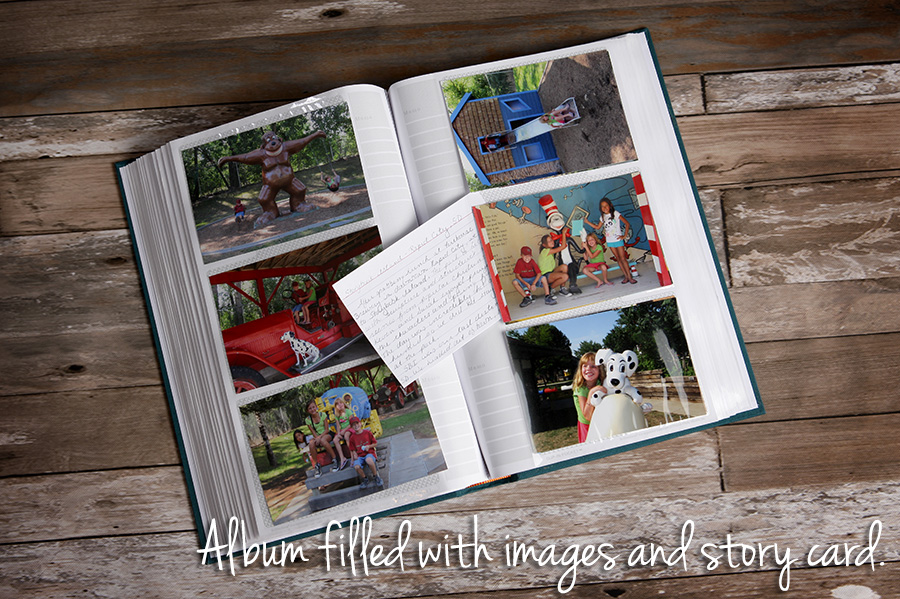 In the end…
I will admit, this project isn't perfect. But perfection was not the goal, as the pursuit of perfection was filled with road block after roadblock, leaving my family's every day memories floating out in bitland. Rather than leaving these memories vulnerable to hard drive failures or other catastrophe, I decided to fore go perfection and JUST GET IT DONE! My children have already delighted in flipping through the pages of 2012 and I know as I listen to their stories of our adventures that I will have more story cards to write and I will encourage them to write story cards of their own. It may be just an album of snapshots, but it will turn into a family time capsule to be treasured for years.