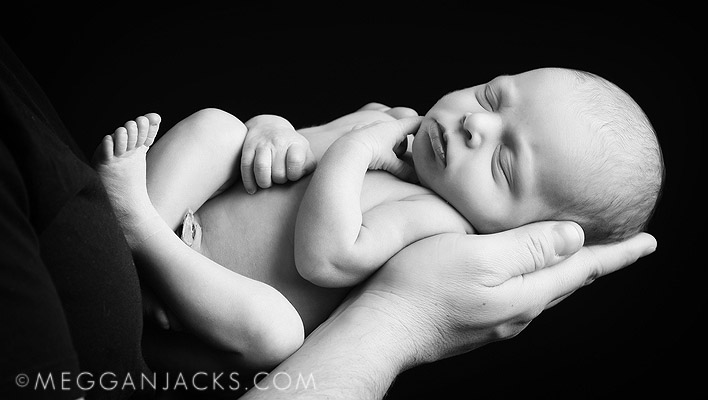 This gem of a family came to me as a referral from another client of mine. The C family of Scottsdale recently welcomed their new daughter, Marisa, into their heart and home and wanted to celebrate her arrival with newborn photos.  Big brother Aiden was along for the ride and was such a great sport! He's not quite two in these photos and that is an age where the older sibling is a wild card – some older brothers and sisters LOVE their new sibling and some have a giant case of jealousy and don't think that their new sibling deserves hugs and kisses.
Miss Marisa was an absolute angel during her session. She snoozed the time away, waking briefly for a quick snack and then drifting back off to dreamland after she'd filled her belly.  At just nine days old for her session, she was still happy as a clam to curl up into a little ball, mimicking her prenatal pose.  I love in the bottom left photo where she has her legs curled up and hands up close to her face.
Two of my favorite images from the session include big brother in them.  How can you not adore the loving gaze Aiden has for his little sister or the soft kiss he is giving her as she she breaks out in a big grin. Definitely moments to treasure in a portrait. In a few years there will be the moments of typical sibling bickering that leave parents longing for the "easy" days when their kids didn't pester the dickens out of each other. (Or maybe those are only my wistful dreams?)
For a moment of pure girlishness, I used a gorgeous ivory head band that Mom brought with her to the session. Keeping things elegant and simple, I wrapped Marisa in a ivory scarf and placed her in a soft tan blanket. I love the tonality of the portrait and Marisa's sweet, peaceful sleeping expression. A beautiful reminder of the perfection of a new baby.