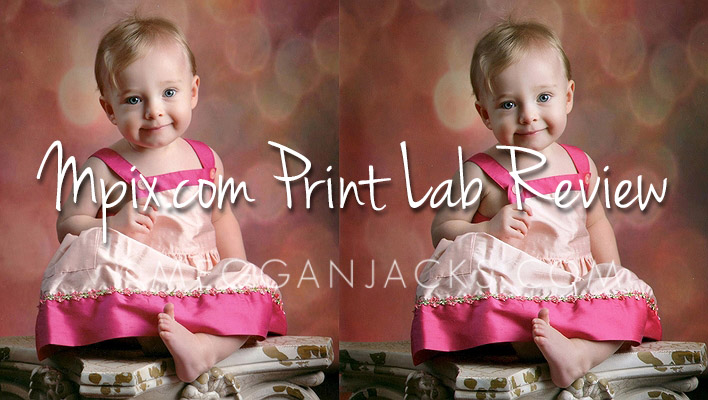 Overview
Mpix.com is the online consumer print lab I generally recommend to my clients for printing the files that they purchase from my studio. Mpix lab offers a nice variety of products and a few options and services not typically found at other consumer labs. Their mounting and lustre coating options are a real benefit when ordering prints 11×14 and larger and these available services make Mpix my #1 recommendation for consumer print labs for Traditional Wall Portraits.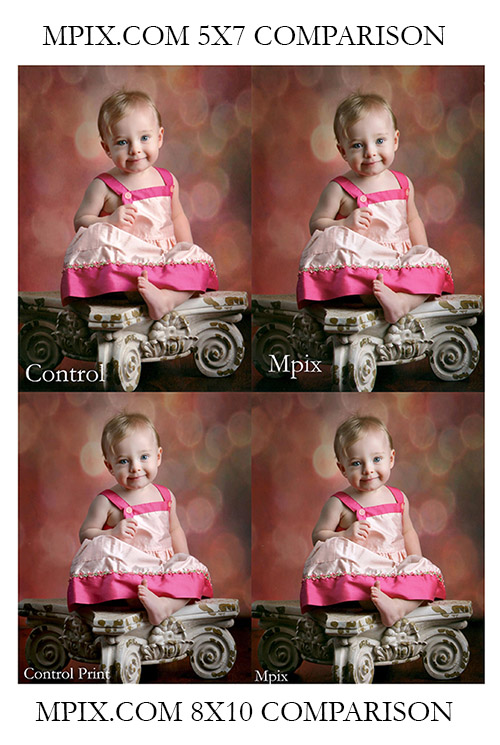 Available Products & Services
PAPER:  Mpix is one of the only consumer labs that offers professional grade papers. Their Fuji Lustre and Pearl papers have an archival rating of 100 years for in-home display and 200 years for dark storage. The Illford True B&W paper has an archival rating of 100 years. This is in comparison to consumer grade papers that have a display rating closer to 40 years or less.
MOUNTING: Mpix offers a variety of mounting options – some, such as mat board or foam core, are considered unfinished and require framing. One option, referred to as "standout" is a has a finished edge and comes ready to hang.  I recommend, at minimum, ordering mat board mounting for prints 11×14 and larger.
LUSTRE COATING: Mpix is one of the few online consumer labs that offers lustre coating. Lustre coating is perfect for any print that is to be framed without glass as it will protect the image against finger prints. Images that have a lustre coating are easily dusted with a soft cloth.
FRAMING: Mpix offers framing services in addition to their printing services. This is a great option if you want to receive your print framed and ready to hang on the wall. I ordered a 16×20 print framed in their Espresso Walnut and thought the frame was beautiful and the overall assembly of the product was top-notch.  I ordered the print with lustre coating and skipped any glass/acrylic options.
GALLERY WRAPPED CANVAS: Mpix offers two types of canvas prints. One is a traditional paper print, adhered to canvas material and then mounted on your choice of mat board or foam core. These canvas prints will need framing.  If you are looking for a modern, ready-to-hang option, they also offer Gallery Wrapped Canvases which is where they print the image directly on the canvas material and then wrap the canvas around a wooden stretcher frame.
I ordered a sample of both a matboard mounted canvas and a Gallery Wrapped Canvas from Mpix. They each passed my initial quality inspection. I am not a huge fan of mat board mounted print but did think the Gallery Wrapped Canvas looked nice. Color was a bit yellow compared to my control prints, but nothing that would prohibit me from hanging it on a wall.
The one downside to Mpix's Gallery Wrapped Canvas is that they only offer an image wrap (meaning the image wraps around the side of the canvas) and do not offer a color wrap (where the image is on the front and the side border is a solid color.) This can potentially present a problem if your image does not have enough room around the subject for the print to wrap.
Price wise, Mpix Gallery Wrap canvases are on the higher end of the scale for consumer available options. I ordered my print as part of a 20% off sale they offered in February. Of the consumer-grade canvases I have ordered, even with the sale, they were still about $30 more expensive.
PRESS PRINTED PRODUCTS: Mpix offers a variety of press-printed products, including birth announcements and accordion albums. I ordered a sample of the accordion album using one of their pre-designed templates. The quality of the item was good, but the item, even though ordered at the same time as traditionally printed 5x7s and 8x10s, required a separate shipping charge. From a consumer standpoint, this was quite frustrating. Mpix does, however, periodically offer free shipping specials, or one day sales on their press printed options, so I would suggest waiting, if you can, for a sale of some sort to take advantage of the press printed items.
Print Review
Overall in the print review Mpix performed within acceptable tolerance. While there is some notable difference in side by side comparisons of their prints vs. the control prints (the mpix prints have a slight green tint in the shadows), when the Mpix prints are viewed on their own they pass inspection. The other products I ordered from Mpix, including the framed wall portrait, 16×20 gallery wrapped canvas, 10×10 standout, 8×10 canvas mounted print and samples of Pearl and True B&W papers all passed inspection as being acceptable.
Bottom Line
Mpix is one of the pricier online consumer print labs, but I feel the prices are worth the investment in terms of pro-level options and level of print quality. They do offer frequent sales, so if budget if a concern, I recommend signing up for an account and keeping an eye out for sales on your favorite products.
As always, if you are using professionally crafted, print-ready digital files, I recommend turning OFF any option for color correction. Mpix will offer you this option and you will need to check a box that indicates you understand that Mpix is not liable for any color or density issues when printing your files if you do not opt for their color correction services.
If you a printing files from Mpix that came from a source other than Meggan Jacks Photography, I would recommend submitting a small order of test prints to make sure that your files will print properly with Mpix before ordering a significant amount of items.
If you are using files from MJP, you should be relatively safe in ordering your prints. While I don't offer a 100% quality guarantee of any print that is not ordered through my studio, I do run periodic tests with Mpix to make sure they are able to print my files within acceptable standards.