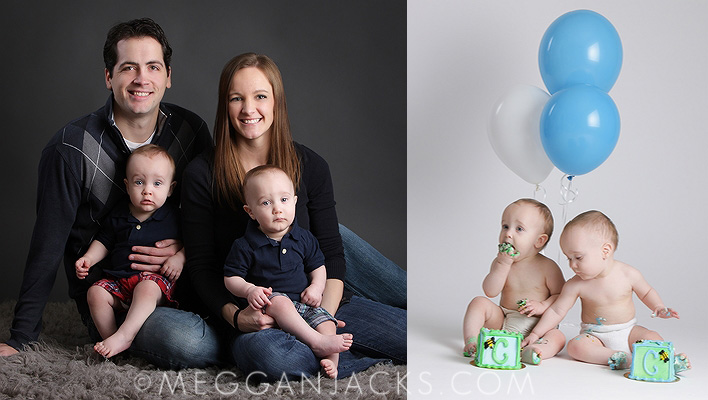 I had the T twins in my Phoenix portrait studio a few weeks ago for an early celebration of their First Birthday. Mom wanted to capture a few photographs that could be used as part of their birthday party invitation – always a great idea!
These two little guys are NOT identical, but are close enough to leave me trying to remember which one is which. In-utero they were dubbed "Baby A" and "Baby B" and Mom & Dad used that as a jumping point for their first names. Their names start with the same letter that they were classified with! How fun is that?!
Both boys were VERY close to walking – they were able to take a few steps before sitting back down. Once their knees hit the ground, they were OFF like a rocket to explore the studio. Mom & Dad definitely worked up a sweat to keep the boys in the "zone" for the portraits. I think the results were worth it though!
And like any other good first birthday photo session, we ended things with a cake smash. Two boys need two cakes! The cakes were thoroughly destroyed a and frosting smeared into every nook and cranny of baby skin.