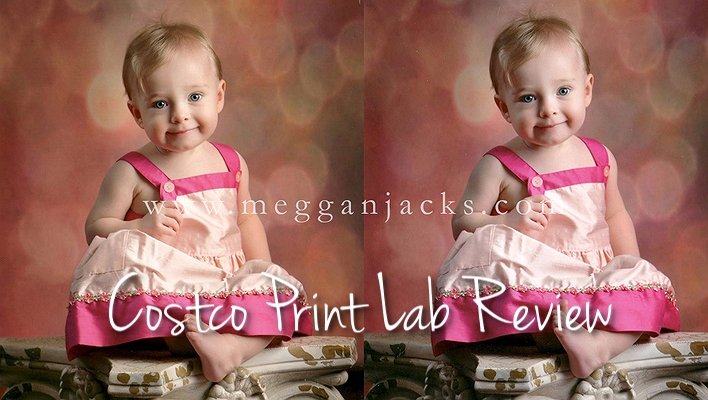 Overview
I have a love/hate relationship with Costco print labs. For the most part, I love them and recommend them, but I do so with one MAJOR caveat: NOT ALL COSTCO PRINT LABS ARE CREATED EQUAL.  In all honesty, this is a disclaimer than can apply to ANY print lab, but since I do, in general, recommend Costco print lab as a local print option for my clients, I feel like I have to give them fair warning.  In my area (Phoenix/Scottsdale, AZ) there are numerous Costco locations – in fact, there are three within 5-8 miles of my home. Two produce great prints and one is mediocre at best.  I blame it on staffing, for the most part, as I think an educated and quality conscious staff is the key to great results at ANY print lab.
In general, if you have a Costco that has a great staff that keeps their machines calibrated on a regular basis, your local Costco can be a great resource for small prints (8×10 and smaller.) Most of the time you can get prints the same day and who doesn't love that level of instant gratification!
Costco offers more than just small prints, however, as detailed below. Their entire product line can be viewed online at Costco.com – just click on "Photo Center" from the top menu bar.
Note: Most local Costco stores only print 12×18 and smaller. All other products offered through Costco.com are shipped to you or to the store.
Available Products & Services
PAPER:  The two Costcos I used for my test prints used Fuji Crystal Archive Paper – this is a consumer grade paper that has a display rating of 40 years or less. For images that are in "dark storage" the rating is longer.
MOUNTING: Costco does not offer mounting services for their prints. They do offer framing and canvas prints, however.
FRAMING: Costco (online) offers framing services in addition to their printing services. This is a great option if you want to receive your print framed and ready to hang on the wall. They currently offer 5 frame choices – Black, Espresso, Silver, Gold and Natural.  I have not tried out their frames, so I can't attest to the quality at this time.
GALLERY WRAPPED CANVAS:  Costco does offer gallery wrapped canvases – both image and color wrap options. However, their color wrap options are limited to either Black or White wraps.
OTHER PRODUCTS: Costco offers a wide variety of other products in addition to traditional prints and canvases. They offer greeting cards, photo books, calendars, mugs, t-shirts, ornaments – the list goes on and on.  Most of the "other" products are available for order online with shipping to your home or in-store pick up.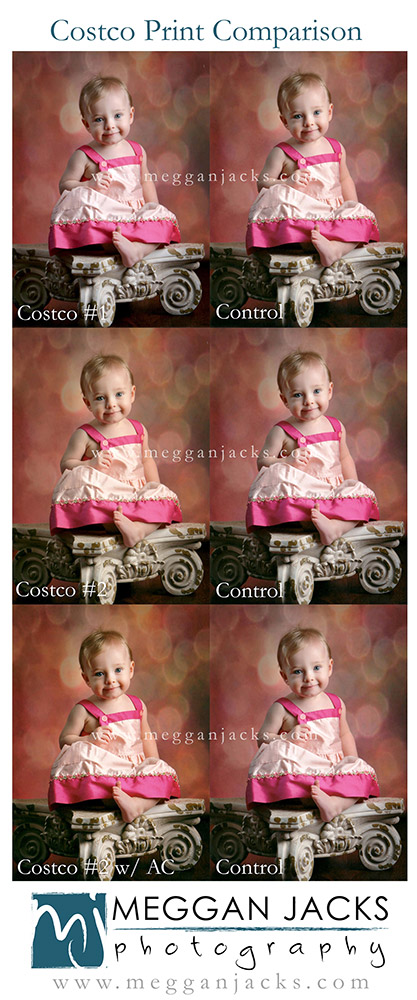 Product Review
SMALL PRINTS
As I mentioned above, Costco print results are not consistent between stores. I selected two of the three Costcos that are close to my home to try out for printing. One is the store I use for my personal prints and the other is a location I had been told by a friend had poor photo results.
Costco #1 represents the Costco location I use when I need quick prints done for personal use. As you can see, the results are within tolerance of the control – minor color shift in the shadows, but nothing that leaves you thinking "Eww."
Costco #2 represents the local Costco that comes with a warning. I made an error when I ordered prints from this location and forgot to turn off the Auto-correct option that Costco sets as a default. However, this worked in my favor as it allowed me to see the impact of AC on my professionally edited images. I ordered a second set of prints with AC turned off so that I could get an accurate comparison.
As you can see from the results, Costco #2 printed considerably more yellow and the AC version printed yellow with more contrast which just makes the results "Eww."
GALLERY WRAPPED CANVAS
I wasn't going to print a canvas sample from Costco. I just didn't think there was ANY WAY that the results would be worth it. But when I was waiting to pick up my prints from Costco #2, I saw a woman picking up her canvas order. As the Costco employee pulled the cluster of canvases out of the cardboard shipping box to show her the results, I have to admit, I was impressed. They were obviously professionally crafted images and from what I could tell, color and clarity of the canvases were beautiful. The canvases will definitely be show stoppers on the walls of her home. With that thought in my mind, I went home and ordered a 16×20 canvas from Costco. And you know what – it's not too bad!  Ordering was easy, shipping was fast and I'd hang the final product in my home. The major downside to their Gallery Wrapped Canvases is that aside from an Image Wrap option, they only offer two choices for Color Wraps – black or white. Not the end of the world, but not as flexible as having a custom color choice option.
D@mn You Auto-correct!
So, how do you turn off that pesky Auto-correct option with Costco? First off, I always recommend ordering your prints through Costco.com. This will save you time as you can order and then pick up those prints without having to wait around for them to actually be printed (if you are like me, waiting for an hour in Costco will lead to a significant hit to your wallet!)
You can turn off Auto-correct within your print preferences with a few easy steps. You can also change your default paper option from Glossy to Lustre if you desire.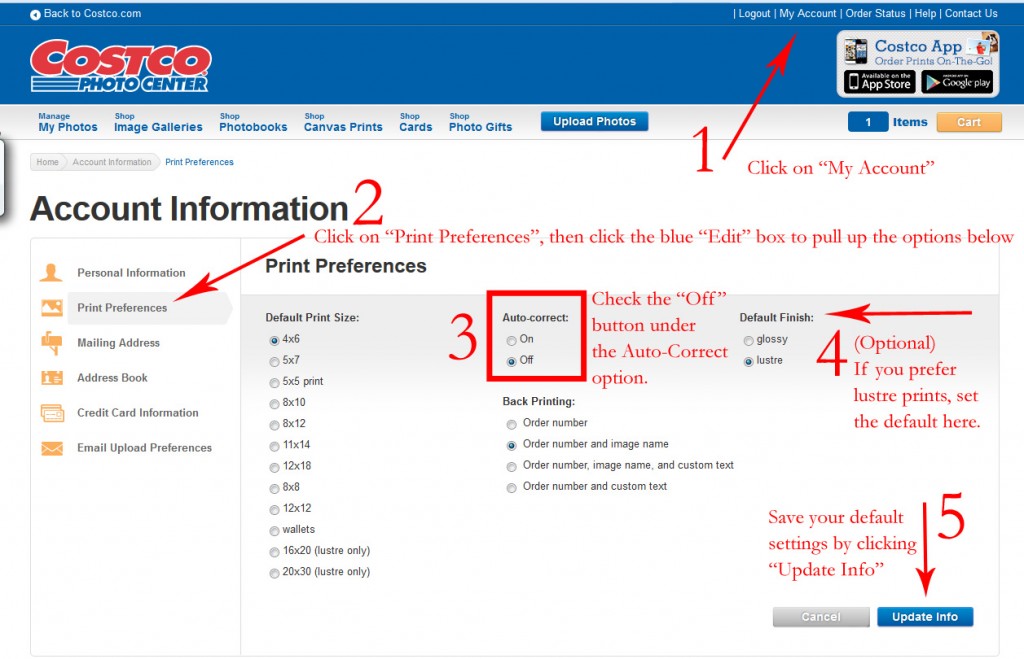 After you've logged in to your Costo.com Photo Center account:
1. Click on "My Account" in the upper right corner of the screen.
2. Click on "Print Preferences" in the left side menu – This will display your current, default, print preferences. Click on the blue "Edit" button on the right side of the screen under the displayed print preferences
3. The Auto-Correct option is the first item listed in the center column. Change the default option of  "On" to "Off."
4. (Recommended) If you prefer lustre prints, change the default option from glossy to lustre.
5. To save your changes, click on the blue "Update Info" button.
Bottom Line
As I mentioned in the opening statement, I recommend Costco for printing 8x10s and smaller, but with a major disclaimer. They are not all created equal – but they are worth trying out.  I would test print a few 5x7s before ordering an album worth of images. If they look good, then proceed with your entire print order. If they make you say "eww!" then either try another local Costco if you have another one close by, or consider using another print lab.  If you are looking for a canvas vendor, I feel the Costco canvases are worth trying out if you want an image wrap or are okay with a black or white color wrap.
ALWAYS MAKE SURE YOU HAVE AUTO CORRECT TURNED OFF!!