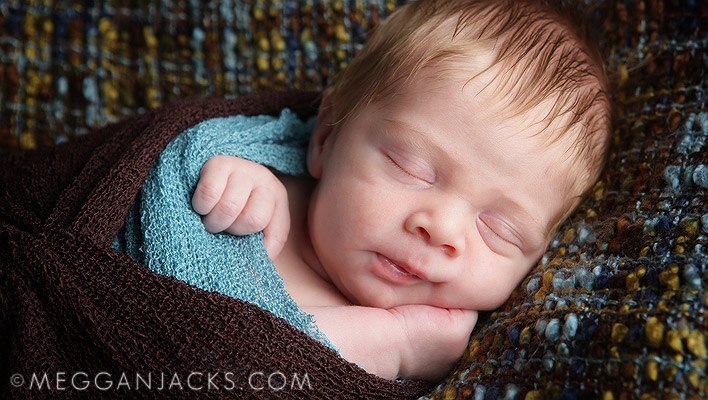 According to his Grandma. 🙂
Sure, she may be a bit biased, but I don't thing Grandma is too far off the mark here. Brighton IS a very handsome young man and was in the perfect mood for his newborn portrait session earlier this month. His session was a gift from Grandma to her son and daughter-in-law. Such the perfect gift!
Brighton arrived at his session sleeping happily in his car seat. After a careful extraction from the safety device, he was moved over to the warm spot on the bean bag that I had prepared for him prior to his arrival. With a heating fan continuing to blow warm air his direction, he slept on for several minutes allowing me to capture all sorts of gorgeous photos of his tiny self. I wrapped him up in a snug little cocoon and after a few more pictures, he decided that he needed to figure out what was going on and opened up his pretty blue eyes to take a gander around.
And then he got hungry. Typical male. If he's awake, he's hungry!
After a quick feeding it was snuggle time with mom and dad. I know I've said this before, but I will probably say it every time I write about a session – THESE are the moments that I love during newborn sessions.  Babies grow so quickly and these first moments of being able to hold your child so close and so tightly – they don't last too long. So to be able to capture the moments in a manner that will allow us to look back and remember – well, that is just priceless!
We wrapped up the session back on the bean bag with Brighton trussed up in a combination of blue and green wraps on a blanket that is filled with browns, greens and blues. Life doesn't get any better than this. 🙂