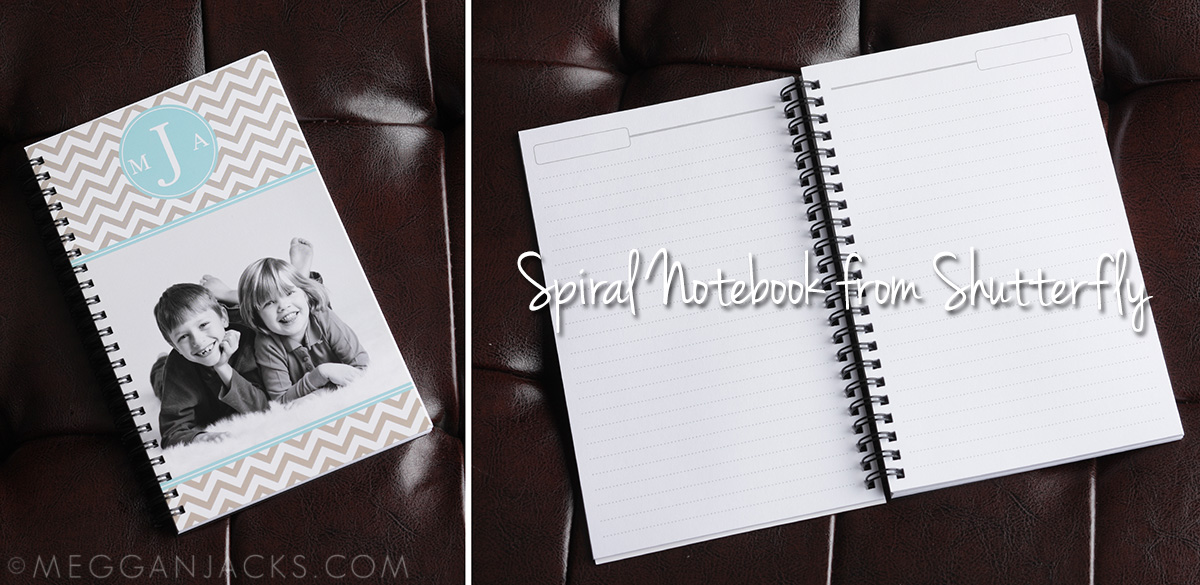 Overview
I will admit, I shudder when I hear the words "Shutterfly.com" – I have visions of photo novelty products, such as mouse pads, woven blankets and cheap acrylic mugs floating through my head.  However, I am not naive and I know that Shutterfly is VERY popular with consumers because of the wide variety of products that they offer (and the constant sales!) So, as part of my blog series reviewing the print quality of various consumer labs, I put Shutterfly.com on the list.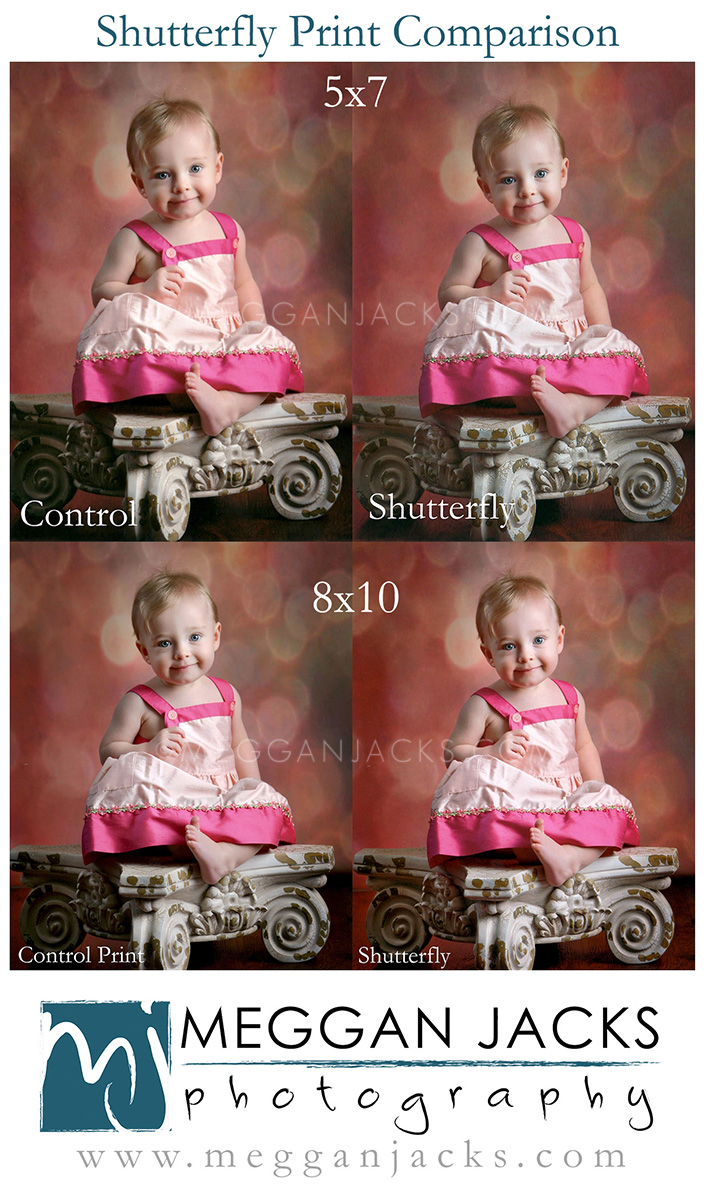 Available Products & Services
PAPER: Shutterfly uses Fuji Crystal Archive paper. This is a consumer grade paper that has a display rating of 40 years or less. For images that are in "dark storage" the rating is longer.
MOUNTING: Shutterfly does not offer mounting for basic wall portraits, however, they do offer various wall art options, such as metal prints, gallery wrapped canvases, wood wall art and acrylic prints.
LUSTRE COATING: Not Available
FRAMING: Available only for canvas prints.
GALLERY WRAPPED CANVAS: Shutterfly offers canvas products, but the selection is very limited with only seven available sizes.
PRESS PRINTED PRODUCTS: Shutterfly offers a variety of press printed products. They offer a decent selection of card templates via their main website or you can visit their affiliate, TinyPrints, for a selection of premium templates and products. I did try out Treat.com, another SF affiliate, which allows you to send SINGLE personalized greeting cards to family or friends. I tried it out at Valentine's Day one year to send various members of my family a greeting card from my kids. It worked perfect – I uploaded a picture, selected a template and personalized it. Treat.com then took care of printing and mailing out the card. Considering I am horrible at remembering to send cards on holiday, Treat.com is a great option. I mailed myself a copy of the card to check out the quality and it wasn't too bad. My family was impressed with the card, so the goal was met.
PHOTO BOOKS: A VERY popular product line-up for Shutterfly is their Photo Books.  A little part of me (the professional photographer me) dies inside when I hear people ordering albums from Shutterfly. I ordered one as a sample to try out their design software and get an overall idea of product quality.  I have mixed feelings about it. I suppose it isn't horrible, but the print quality is a bit blotchy and I really, really do not like the super thin pages.  Now, mind you, the album I ordered has my professional images in it and I prefer those printed on a better quality of paper than the flimsy stuff from Shutterfly.  Anything less than that is a professional let down, especially in the area of albums. Snapshots from a vacation may work just fine in a Shutterfly Photo Book, but I am still not sold on them for printing an album with professional images. I just don't think they do the portraits justice.  Shutterfly does offer a premium album (marketed for weddings) and there is a possibility on a higher quality paper the printing might be better on those albums. I have not ordered a sample.
NOVELTY ITEMS: One press printed novelty product that caught my eye on the Shutterfly website was the spiral bound notebook. I use notebooks a lot and thought it would be fun to have one with my kids' picture on it. Quality was decent for a product that will get tucked into a purse or bag and beat up. Price point was okay (I got it on sale) and it would make a nice gift for a friend or relative.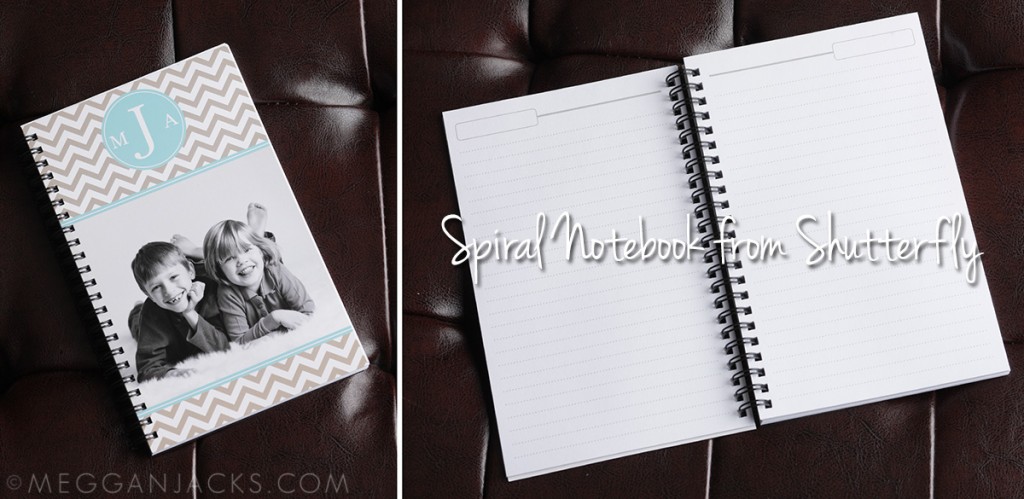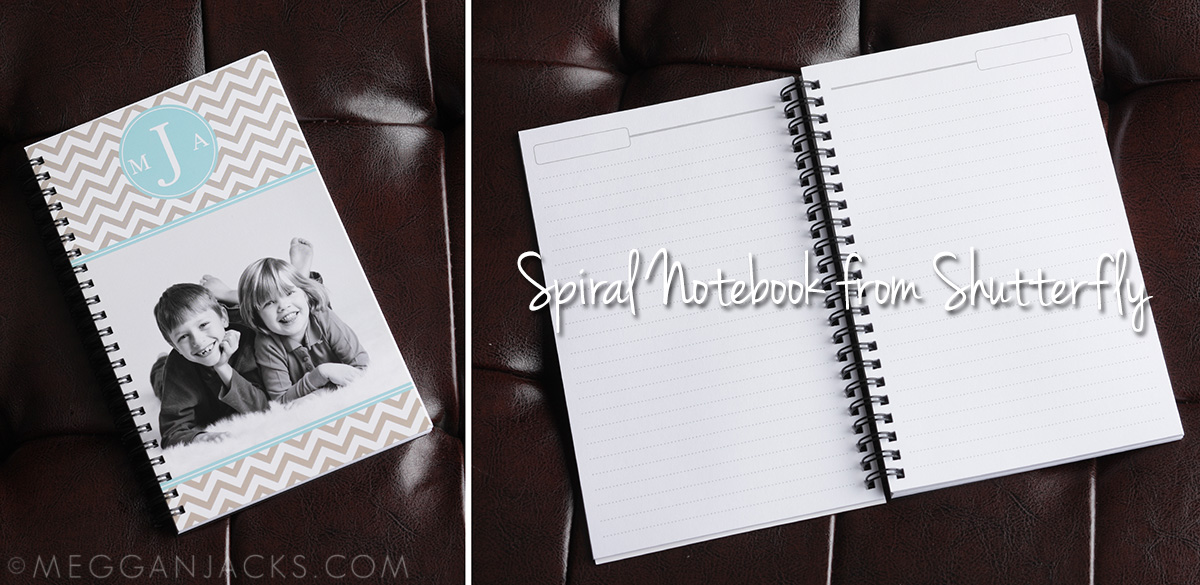 Print Review
The one area I was surprised with my samples from Shutterfly was with the general print quality of the images I received. They are not spot on, but they are within tolerance. The difference probably comes down to personal preference as the Shutterfly images printed a bit more saturated.  The one MAJOR DOWNSIDE to Shutterfly is that their "VividPics" auto correct option is a pain in the tush to deal with. You can't turn it off at the account level and you have to turn it off for every.single.picture you order. I left it on to see how bad the images would look. The adjustment wasn't too bad, but I'd probably turn it off going forward.
Bottom Line
Shutterfly print quality for small prints was within acceptable limits.  They offer both glossy and matte options for small prints and matte only for larger prints. Downside: Very limited print size options: 4×6, 5×7, 8×10, 11×14, 16×20 and 20×30. If you are ordering prints larger than 8×10, I would suggest Mpix.com as the print lab to use.
As always, if you are using professionally crafted, print-ready digital files, I recommend turning OFF any option for color correction. Shutterfly calls their auto correction option "VividPics" and you must turn it off at the individual image level. Here is the Shutterfly information page on how to turn off VividPics.
If you a printing files from Shutterfly that came from a source other than Meggan Jacks Photography, I would recommend submitting a small order of test prints to make sure that your files will print properly with Shutterfly before ordering a significant amount of items.
Additional Consumer Print Lab Review Articles
Please check out the other reviews I have written about different consumer print labs: