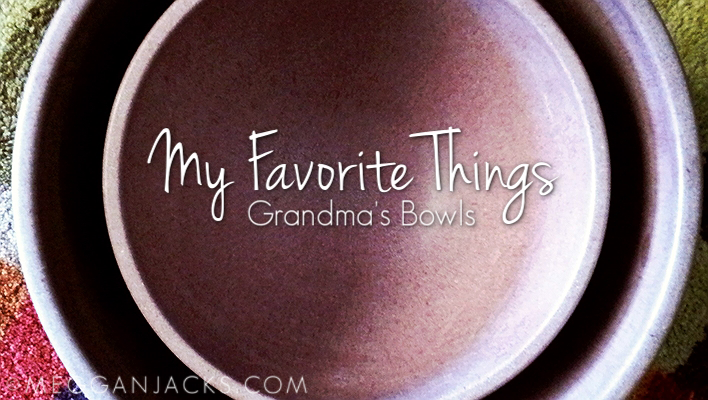 Project Inspiration
I've had a project idea floating around in the back of my mind for the past year or so. I am not sure what spurred the idea – perhaps a it was the 52-week photo projects I see periodically shared on Facebook or Instagram.  Whatever the inspiration may be, my ultimate goal is to create an album of "My Favorite Things" that I can share with my kids – an album that will maybe become a little peek into my life for my grandchildren and great-grandchildren.
I thought it might be fun to share this project on my blog since there is a photography element to it and maybe, just maybe, it will inspire someone else to so something similar.
Favorite Things
The first item on my list to share is something that should my house be on fire and my husband, children and hard drives already be safe, I'd make a serious attempt to grab on my way out of the house…. Grandma's Bowls.
The backstory
My maternal grandmother passed away in 2007.  She and my grandfather had been farmers, raising milk cows and then crops on their land just outside of Des Moines, Iowa.  Her house was a small treasure trove of antiques – quilts handcrafted by her mother-in-law, vintage postcards from the early 1900s, small kitchen gadgets that were precursors to modern day appliances… the list went on and on.  Other items were not so much antiques as family heirlooms – Grandma had three sets of good china – her own set, her mother's set and her aunt's set. Two sets of silver and a collection of porcelain bells that us grand kids would take turns ringing to signal the start of dinner time on Sundays.
Generous soul
Before she died, Grandma gave many of her items away to family members – things she knew we admired.  I made an off-hand comment once that I really like her jadite bubble bowl (which she ALWAYS used to put sliced tomatoes in) and the next time I visited Iowa, she had it packed up ready for me to take home with me to Arizona.  But she wasn't able to give away everything prior to her death – she lived alone at home right until the end and enjoyed being surrounded by familiar things of the past.
After her death my mom and aunt wanted to clean out her home so that the contents would not be stolen or ruined by vandals.  Since I live out of state, I wasn't able to help in the task of sorting through the treasures on her property, but my mom did ask me if there was anything of Grandma's that I wanted.
Simple request
My list was short – there was only one thing I REALLY wanted.  Grandma's mixing bowls.
On the surface, these melamine bowls are nothings special. Made by Boontoon out of New Jersey, Grandma probably acquired them sometime in the 1950s or 60s. But all good things made in Grandma's kitchen came from these bowls. Cookies, brownies, fruit salad – even the Sunday evening popcorn was poured into the large bowl to be shared.
I love that these bowls are practical – made of plastic to avoid breaking and they can take the abuse of a metal mixing utensil. The bottoms show some wear from the years of use, but to think of all the joy the contents of the bowl brought to my mom's childhood, and even to my own childhood, makes me smile. These are the first bowls I reach for when mixing brownies or muffins. I may make my popcorn in the microwave as compared to on the stove, but I still pour it into the bowl for sharing. I hope I can pass on the bowls and the and the memories they help create, to my own grandchild some day.
My goal is to make this a weekly blog series, so be sure to check back next week to see the next entry into My Favorite Things album.