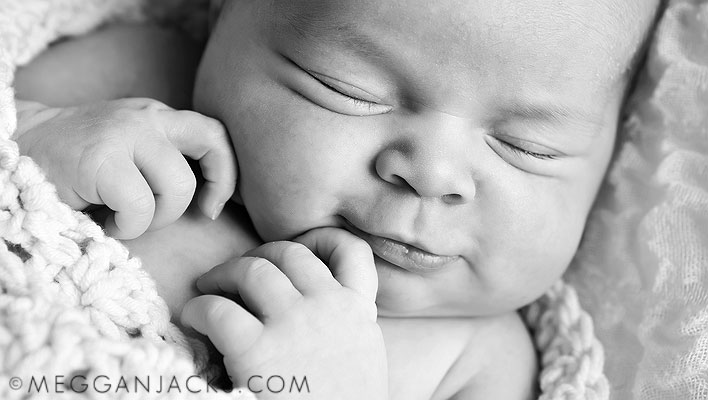 I received an inquiry just before Christmas from a new dad who wanted to surprise his wife with a newborn portrait session. His little girl was born just a few days earlier and he thought this would make the perfect gift. His big question – would the session include portraits of his wife and daughter together?
Of course! I LOVE relationship portraits and always encourage my clients to be in the photos!
When they arrived for their session and I took my first look at my tiny subject, I quickly realized "tiny" wasn't the right adjective. 🙂 Miss Bailey was a solid 9 pounds at birth and since she was nearly 3 weeks at the time of her session, she was definitely back to her birth weight.  We started off in the warm nest of the bean bag, snuggled in a soft pink blanket. Such a delicate, girly look! The close-up portrait in the upper right of the collage below is from that series. Details of her lips, lashes and adorable little nose. She has the "All is right with my world" content smile on her face.
After a few minutes, Bailey did was most 9lb babies do… she got hungry. Hey! A girl has to eat if she wants to maintain all that rolly-polly goodness!  After grabbing a quick snack we progressed into the highlight of the session – the pictures with Mom & Dad. Simply stunning! Love and happiness radiating from these precious photos.
Bailey had so much fun snuggling with her momma for portraits she decided that she wanted to hang with her a bit more and grab another snack. I don't blame her one bit! Being a model is hard work! After a tummy refill and and some soothing swaying with Mom, Bailey drifted off into a milk coma. Taking advantage of her sleepy state, we did more bean bag poses and then some basket work.  She woke up just in time to flash her beautiful eyes at the camera. Perfection!