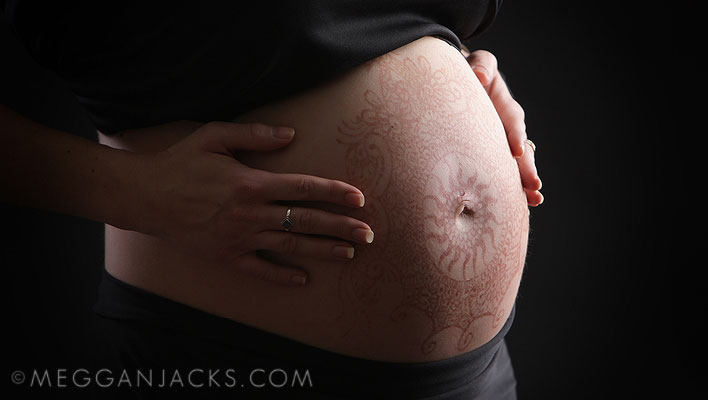 This beautiful momma-to-be contacted me earlier this month asking if it was possible to do maternity photos that included her two fur-babies. Being an equal-opportunity studio to animals of all shapes and sizes, I told her "Of course!"
Axel and Eve are probably the two cutest mini-doxie pups that I have ever seen. Axel has longer hair, making him look like a old man despite his young age and Miss Eve was the MOST curious of all the dogs I have had in studio. She just kept trotting around the room, sniffing and nosing all the little containers and chairs I have sitting around. Whenever Mom was sitting, she wanted to be IN the picture with her, which worked out perfectly since Eve to be there as well!
You may also notice that Mom opted for a really cool looking henna tattoo for her maternity session. This is the first client that I've had with this belly art and it was a lot of fun to show it off.  In addition to showing off the belly and henna tattoo, one thing I wanted to keep was a simple, earthy tone to the images. I elected to use a backdrop called "Lacie" which is cream with a light tan damask print to it. Wrapping mom in a cream cloth with the belly exposed created an image that is soft, elegant and girly.
I encourage all my pregnant moms to bring items with them to their session that they might want to use in the portraits. This mom brought a really cool looking scarf that went gorgeous with the brown skirt she wore to the session. I paired it with my favorite brick background and I think the result is just stunning!
Did I mention there is a little girl in that belly? Yep! Sweet Veda will be making her appearance sometime in early March. I can't wait to meet her!