I am pleased to announce that I have completed the process to become a Certified Professional Photographer! Here is the press release: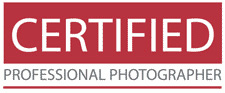 February 11, 2011

For Immediate Release

Meggan Jacks Earns Certification

Meggan Jacks of Meggan Jacks Photography in Phoenix, Arizona has earned the Certified Professional Photographer (CPP) designation from the Professional Photographic Certification Commission.

Jacks earned this designation after meeting rigorous requirements measuring her artistic and technical competence. The Professional Photographic Certification Commission currently recognizes less than 2,000 Certified Professional Photographers nationally and less than 50 in Arizona.

The Professional Photographic Certification Commission is the leading body for certifying imaging professionals. Certified Professional Photographers must complete a written examination, and image evaluation and adhere to a stringent code of conduct. Certification must be renewed on a periodic basis, ensuring that continuing confidence in the professionalism of Certified Professional Photographers.

Jacks' portfolio can be found online at www.megganjacks.com.
The certification process was a great learning experience and I am really proud to carry the CPP designation.