Summer decided to pop in over the weekend and wave "hello" and remind us that it hasn't forgotten about us Phoenicians – I think it was 95 or so on Sunday. Ugh. Thankfully the 10-day forecast for Phoenix doesn't look too bad.
Each spring we purchase a little plastic play pool for the kids. We have a regular swimming pool, but the plastic pool is easy for us to manage with the kids – The regular pool water is too cold right now for my tastes and so I prefer to just sit in a lawn chair and closely supervise as compared to actually getting in the water.
Sunday was the first day to fill up the plastic pool – Kev splashed in it some, but since my husband had some work to do on the larger pool, kev elected to go play in it while Scott supervised. When Sarah woke up from her nap, I took her out to the play pool and grabbed my camera along the way. There was no way I would miss photographing this. 🙂
::ALWAYS WATCH YOUR KIDS AROUND WATER!::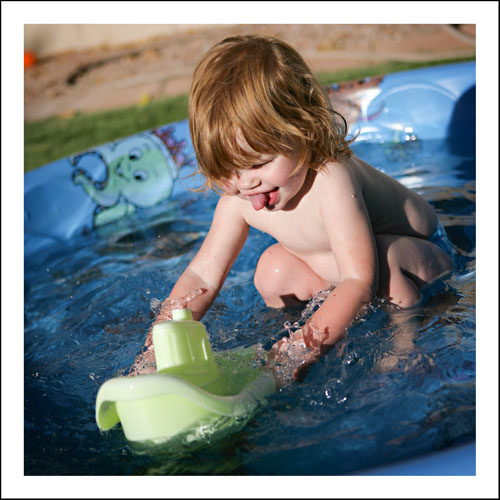 She is yelling at her daddy to watch her play! "DAAAAAD!!!"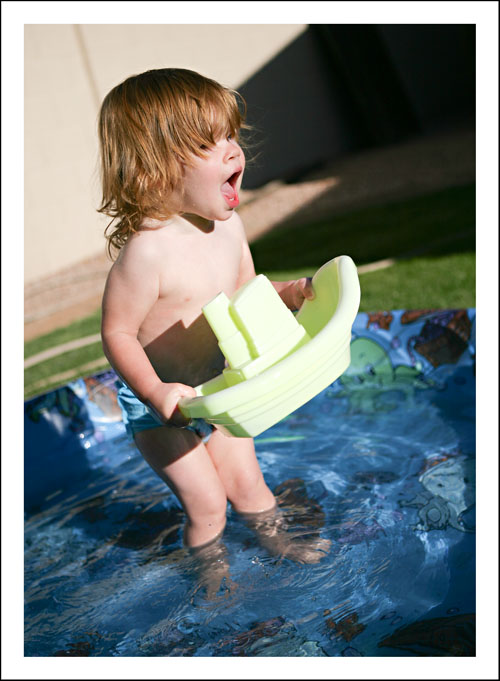 Wild child!